This mother gave birth to six newborns in just nine minutes! The probability was 1 in 47 million!
If you thought that giving birth to a pair of twins was the best that nature could offer to expectant mothers, you will have to think again!
In fact, it happened in the USA, in the state of Texas that a woman named Thelma Chiaka gave birth to six newborns (sextuplets) in a record time of just nine minutes!
All this happened in March 2019 at the Huntsville Woman's Hospital in Houston, Texas, and the news immediately went viral on the Internet, due to the event being so rare and incredible!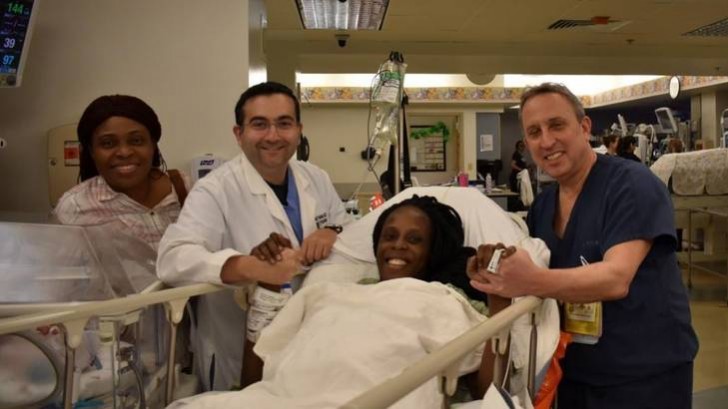 At dawn on March 15th, between 4.50 am and 4.59 am, Thelma gave birth to six newborns, two groups of male twins and a group of girls in a record time of nine minutes, and each child weighed between 1 pound 12 ounces to 2 pounds and 14 ounces (1 to 2 kilos) and were immediately monitored after their birth in the neonatal intensive care unit. Thelma's little boys did not immediately receive names so much was the surprise of the mother at the time of the historic birth, but Thelma promptly named the girls, Zina and Zuriel.
The medical staff remained open-mouthed after learning of the record births of Thelma Chiaka (with a statistical probability estimated at one in 47 million), although she, of course, was not the first woman to give birth to six children at once.
In fact, the most famous "sextuplets" in recent history dates back to 2004 with the vicissitudes of a couple formed by John and Kate Gosselin, a record that was then beaten in the fall of 2018 by Eric and Courtney Waldrop in Alabama, a couple that already had three children at home!
Did you know that the odds of having sextuplets are estimated at one in 4.7 billion? We were honored to welcome Thelma Chiaka's four sons and two daughters early this morning! https://bit.ly/2W0ZGlZ

Pubblicato da The Woman's Hospital of Texas su Venerdì 15 marzo 2019
But the most sensational case in the history of multiple births, far more incredible than the one involving Thelma Chiaka, belongs to Nadya Suleman, a Californian woman who gave birth to 8 babies (octuplets) in 2009 when she already had six children under the family roof!

Therefore, although Thelma's record delivery already had been previously surpassed by other "super-moms", nevertheless, the happy and very rare event that took place in March 2019 in Texas aroused the admiration and the astonishment of the whole Internet, and users participated and shared on various social media networks their heartfelt joy regarding Thelma's highly unusual sextuplet delivery.
And you, what do you think of the extraordinary story of Thelma and her sextuplets?
Source: