An 11-year-old girl visits a nursing home and with one question manages to make all the residents happy
Nursing or retirement homes are almost never places surrounded by positive energy.
In fact, most of the time, a sense of frustration felt by many of the residents prevails due to the sadness of seeing some residents pass away or suffer loneliness due to the scarcity of visits by their friends and relatives.
It's definitely not a place where an 11-year-old would normally feel at ease, but not when it comes to Ruby Kate, a young American girl who was introduced to the reality of nursing homes one summer day when she started coming to work with her mother. 
In a short period of time, she managed to reverse the mood of the elderly residents and bring back their smiles with one simple action.
Ruby Kate is an 11-year-old girl. And due to having to come to work with her mother, she came to know the reality of nursing homes.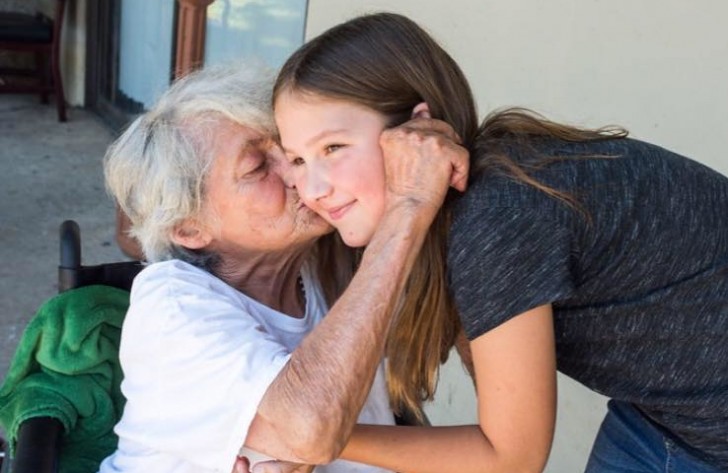 Ruby Kate immediately noticed the cheerless smiles of the residents and the dissatisfaction of the staff who did not really understand what to do for the elderly residents to make them feel good.
Despite the not exactly joyful environment, Ruby Kate was still happy to hear the stories behind those faces marked by time, their past, and their present. She had also created some activities to do with them to help pass the time more pleasantly.
One day, Ruby Kate found a resident, Pearl, with her eyes fixed and staring out the window, and Ruby Kate thought that she must have been watching some kind of exciting scene, but she only saw a woman who was putting a dog into a car.
It was then that the elderly woman told her that this dog was her 12-year-old dog and that she was very sad because she did not know when or if she would ever see him again. And therefore, she wished that she could see him more often.
The simplicity of the elderly woman's desire, and at the same time her worried uncertainty, left Ruby Kate with a fixed thought in her mind --- the residents in the nursing home could be more serene and content with very little, yet they could not be so due to bureaucratic obstacles or because they could not afford it.

Ruby Kate, meanwhile, realized that she had enough money in her piggy bank to pay for a dogsitter which would allow Pearl to see her dog more often.
Spurred by the episode with Pearl, she began interviewing the individual residents in the nursing home asking them, "If you could bring three things of this world to you, here in the nursing home, what would you like?"
Once again, the answers she received were of touching simplicity. "I would like some comfortable pants," said an elderly man with trousers that were obviously too tight at the waist; shoes, a warm blanket, access to a private phone, a particular food or a pet.
Her project took on a name "Three wishes for Ruby's Residents" and ended up involving her mother too.
In fact, the woman was amazed to see how the people she had been taking care of for 20 years had really only opened up to her 11-year-old daughter.
And what they asked for to be happy was not anything more than what every human being should have.
The project became famous in the community in which Ruby Kate lived and many people began to give donations. And with that money, Ruby and her mother bought everything that the elderly residents in the nursing home had related to Ruby.
In the nursing home, therapy pets were also introduced which made many of the residents very happy.
In fact, it is known that little puppies and kittens reawaken in elderly residents in nursing homes, the feelings of love and caring that have often been atrophied by the monotony of life in nursing homes.
Since that summer day, besides her school activities, Ruby Kate has been committed to helping the elderly residents in the nursing home. Together with these residents, she organizes fun activities and, above all, she pays close attention to their needs.
Often, we forget how difficult it can be to face the necessity of moving into a nursing home for a person who is already experiencing the uncertainties of old age.
The option of living in a nursing home is, in many cases, the only choice, but this does not mean that it cannot be a good choice. In fact, through Ruby Kate's story, we can learn that it takes very little to improve the life of someone who is elderly, mainly because they already know how to truly appreciate life!

So let's do it!