The future groom passes away a few months before the wedding and the bride publishes photos of their wedding that never took place
The photos that Debbie Gerlach has published on her Facebook profile have touched everyone who has seen them. They are the captured images from the photo shoot taken on her wedding day, or rather, what would have been her wedding day.
Thanks to photo editing, Debbie could imagine how it could have been that day because, unfortunately, her fiance, Randy, died eight months before their wedding day in a motorcycle accident.
But, despite this tragedy, Debbie still would not give up on the idea of doing something truly special on their planned wedding day and accompanying her gesture with a letter filled with love and pain.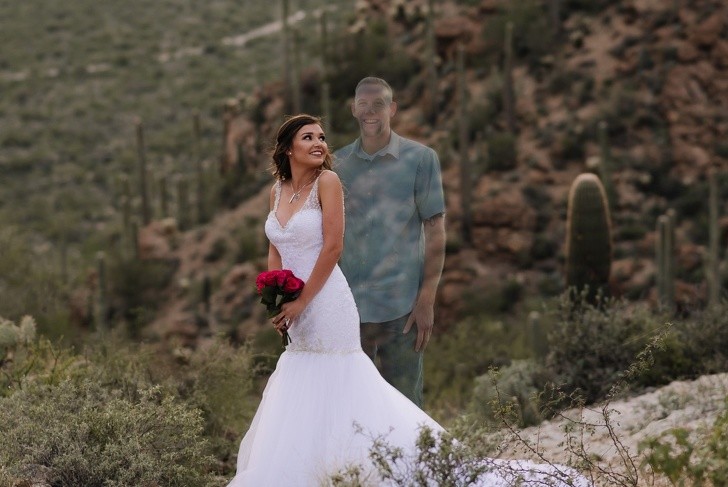 "Today was supposed to be the best day of my life. Today was supposed to be the day I married my best friend. I was supposed to wake up, put on my wedding dress, and walk down the aisle to the man of my dreams. Today, in front of all of our family and friends Randy & I were going to express our love for each other once again, and our vows that we would hold sacred to our hearts. Today was supposed to be the day I have dreamt about since I was a little girl. Today I was supposed to become a wife. Today I was supposed to become Mrs. Zimmerman…
"But today I woke up alone, as I do every day. Today I woke up with my heart broken all over again. Today my daddy will not walk me down the aisle. Today I will not get to see the look on Randy's face at the end of that aisle when he gets his first look at me in my wedding dress, the dress I had to hide from him because he couldn't wait to see it.
"Today I will not see all of our friends and family. Today I will not marry the love of my life. Today I will not have a husband…
"And that is because a person made a choice that has forever changed my life, a choice to NOT stop at a stop sign, to NOT stop when he saw my fiancé coming toward him on his motorcycle, but instead tried to hurry across the street.
"Please, I beg each and every one of you that reads this post, WATCH OUT FOR MOTORCYCLES, stop at stop signs and drive with care because you never know whose whole world is on that bike. Maybe if that person stopped, I'd be marrying my Randy, my best friend, the love of my life.
"I love you Randy Z Zimmerman."
This letter is a manifestation of anger and pain of a woman who has seen her entire life suddenly changed. Today, the sources of distractions abound, and driving has become very dangerous. We are losing the ability to just focus on one thing, busy as we are always with a thousand commitments. While driving a car, however, we must do our best to keep our eyes wide open and be alert to the dangers that the road will inevitably and suddenly put in front of us!