Luca, a single dad, adopts Alba who had been rejected by seven families because she has Down's Syndrome
We would like all the best for our children, we would like them to be better than us ... Then disability arrives unexpectedly that shatters future plans and perspectives. And in any case, the acceptance of a disabled child is always preceded by a period of crisis.
But not for Luca Trapanese. Luca had been certain for some time that he wanted to adopt a disabled child. Alone. He has succeeded and today, with his little daughter by his side, he is a happy father, and an inspiration for all those who, like him, have decided that they want to see disability as an opportunity.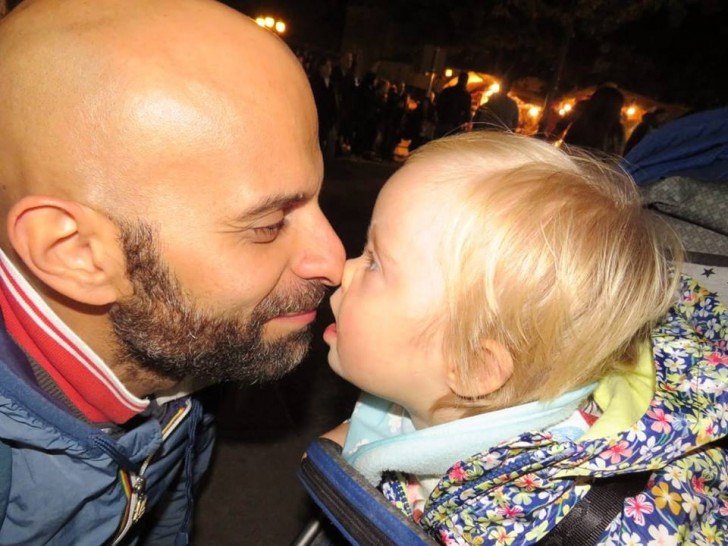 Luca realized that he was a father in all respects when he picked up Alba and held her in his arms for the first time. She was only seven days old and had already been rejected by seven families, who were perhaps completely unprepared to raise a Down Syndrome baby. Alba is a sweet and beautiful baby girl with blue eyes and blonde hair.
Luca had already understood for some time that he wanted to adopt a disabled child. But not on a whim, not to stand out from others or to get compliments. In fact, everything started a long time ago, from his years spent as a volunteer and as a social worker with the "A Ruota Libera" Foundation - that provides assistance to Down syndrome children, then with the "Borgo Sociale" and finally at the "Casa di Matteo", that cares for children that are seriously ill. "Since I was 14 years old, I have volunteered and worked with the disabled so I felt I had the right knowledge and experience to do it".
The idea of becoming a father was born when he was with his companion, with whom he no longer has a relationship. Then he decided to adopt a child alone, through a special adoption program that also allows singles to adopt children with special health conditions. "For me, a disabled child is not a second choice solution, but a conscious choice with respect to my vocation and my abilities".

The first night at home, Luca spent it alone with Alba. It was time to "consecrate" the family, but if he had asked for help from friends or relatives, this would have initiated a whole series of future unnecessary offers of help. However, everyone was present at Alba's first bath. And when Lucas was asked if Alba would miss not having a mother, Luca replied: "I believe Alba will be a happy child, as I am with her."

A nanny named Luisa and two grandmothers help take care of her. Two? Yes, because recently Luca has allowed himself to be adopted by a mother who has a disabled son. The woman's desire is that one day, if necessary, Luca will also take care of her son. So, now Luca has an extra brother and mother!
Luca also says that people with Down syndrome today live very differently than they did only a few decades ago. Today, they are no longer "Mongoloids", and they work, they live on their own, they work as volunteers and social workers, and they make many families happy ... Exactly like what Alba is doing.

From Luca's story, we can learn a lot, especially something that is not strictly connected with raising a disabled child. Namely, the concept of accepting disability, removing the optic that makes the disabled seem inferior, of little value, contemptible and to instead rediscover how precious these people are. As Luca himself says, disabled children always end up being the most loved ones in a family.