This puppy was in such bad shape that he could not even move! He just lay there motionless waiting to be saved ...
Irina and Nika were walking on a street in a city in the state of Georgia (USA) when they saw something indistinct lying in the street.
They approached to see better and discovered that it was a puppy dog! It must have been about a month old and it was curled up on itself and did not move a muscle.
The two women, who are volunteers at an animal shelter called for assistance. It was only when they tried to touch it did they realize that the puppy was still breathing, although it did not give any other signs of life.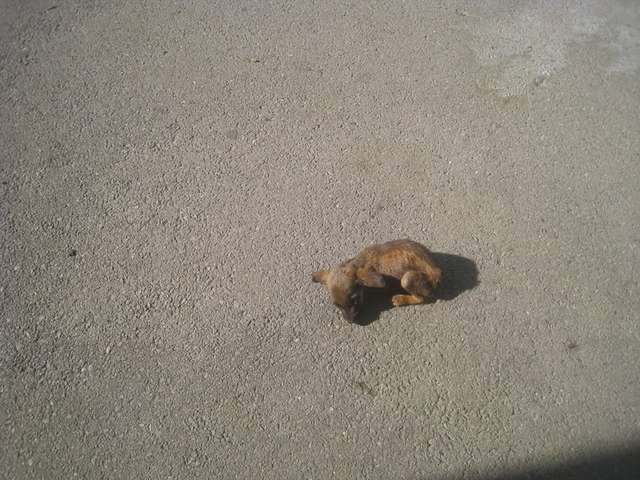 "It was shocking to see that poor little puppy in that condition! It was so weak that it was one step away from death", said one of the women. "He was hungry, dehydrated and infested with parasites", he added.

The two women, while waiting for the veterinarians from their animal shelter to arrive removed the puppy from the middle of the street before a car could run over it. The puppy was too young survive alone, so the women started looking for its mother. They asked passersby if they had seen any dogs nearby, and it was at that point that the women learned the harrowing story of the young puppy.
"They told me that the mother had been hit by a car and that no one knew what had happened to its brothers and sisters."
The puppy was subjected to veterinary visits, and he turned out to be very underweight and infested with parasites.
At the animal shelter, they gave him the name E.T. because he was so thin that he looked like an alien.
Fortunately, E. T. began to respond well to medical treatment and since he ate willingly his weight began to steadily increase.
In fact, day after day, E.T. was getting stronger and stronger. Finally, he began to look like a puppy!
Nine months later, he weighed four times more than the first day when they found him lying in the middle of the street almost dead!
E.T., which later turned out to be a female, now lives in the company of a woman who also does volunteer work at the animal shelter.
"E.T. loves eating, walking, and playing; she's a really sweet puppy."
"We have saved many stray dogs, but E.T. will remain in our hearts forever", the volunteers said.
Anyone who has had the experience of saving a stray animal's life can confirm that after having been given a home, the next greatest miracle is to see these creatures transformed from desperate and abandoned animals into pets that are healthy, loving, and happy!