A three-year-old boy feeds his little birds and now there is a video clip that has touched the hearts of millions of people
Children are able to experience empathy towards people or animals much more profoundly than we adults.
In some cases, children should be our source of inspiration and not the other way around, as clearly shown by the little boy in this video. This video clip was posted on Facebook and has been seen around the world accumulating millions of views.
So, get ready to see the most moving video of the day!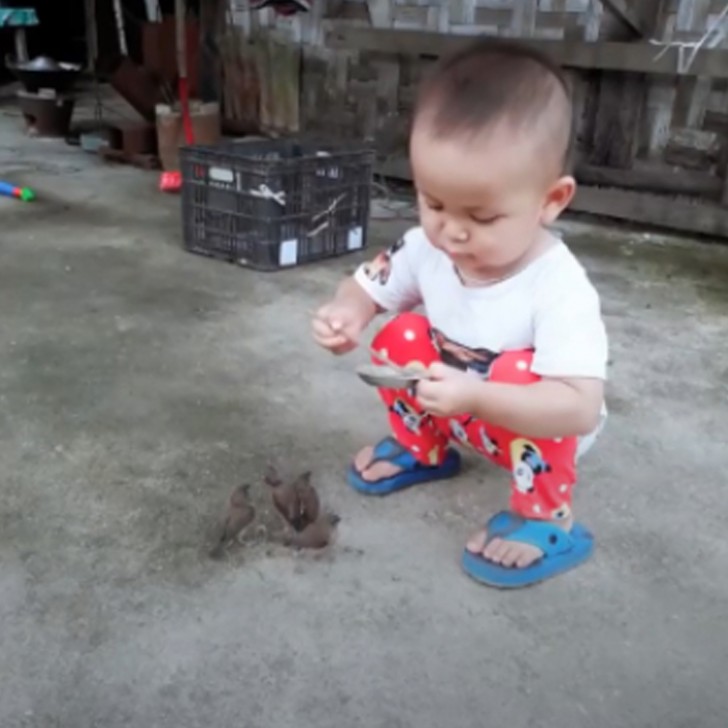 A video clip full of tenderness has been circulating on the Internet for about two weeks, that shows us how children can often be spontaneously altruistic as opposed to adults. This video clip posted on Facebook has been very successful among users all over the world, reaching over 40 million views and over 1 million shares!

The protagonist of the video in question is an Asian child who shows us once again how their culture, is more advanced in some ways than ours, in terms of respect and love for nature and animals. It is a kind of education that can seem to be light years away from our Western conceptions that are, nevertheless, continuing to change and improve.
The video clip in question, which you can find at the bottom of this article, is a very short film of a little Asian boy, as he carefully and lovingly feeds, with his own little hands a small group of birds. The most interesting aspect and also the most moving is the naturalness with which he performs this wonderful gesture. The little boy, who is about three years old is very attentive and focused on what he is doing. In fact, his movements are surprisingly precise and gentle for a child of his age.

This brief moment of spontaneous tenderness has conquered the Internet by becoming a video clip that has gone viral. It is important for children to be in contact with animals from an early age so that they can be educated to respect both animals and nature. This form of education can be decisive in learning to appreciate the value of animals and nature and in encouraging their preservation!