Woman finds a dog tied to a fire hydrant along with a heartbreaking letter: the sick owner can no longer keep the puppy (+ VIDEO)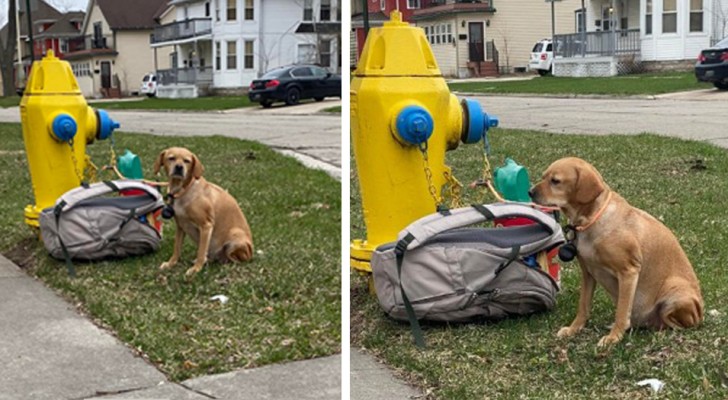 Advertisement
When Kylie Rose Engelhardt found a puppy tied to a fire hydrant, she thought the owner might be back soon. "I sat outside with her for an hour, keeping her warm, waiting for someone to come back, but no one showed up," Engelhardt wrote on her Facebook post.
Next to Baby Girl - the name of the dog - there was a backpack. After waiting for more than an hour, Kylie decided to open it to find out some more information about the puppy. Inside were treats, toys, and a heartbreaking letter explaining why the puppy had been abandoned.
via Facebook / Kylie Rose Engelhardt
Advertisement
The owner was a homeless woman who was undergoing chemotherapy and could no longer take care of Baby Girl due to her health and the cost of the treatment. Giving up her puppy was the last thing she wanted to do. After learning the heartbreaking reason for abandonment, the young woman then decided to entrust the dog to the Wisconsin Humane Society animal shelter. The organization welcomed the puppy and decided to send a message via social media to the owner who had been forced to abandon her dog.
"The dog, Baby Girl, is currently in our care for her mandatory stray detention period and is doing great. As her story is gaining attention locally and beyond, we wanted to take a moment to speak directly to the previous owner of Baby Girl", the volunteers wrote in a long post on their Facebook page.
The post continued: "First of all, we are very sorry that you had to part with your best friend. It is clear how much you loved her and we can see that you did your best as you struggled with your medical health and life challenges. We see your love displayed in the bag that you carefully prepared with all of her favorite things. We see your love in the way you secured her leash to prevent her from being hit by a car. We see your love in the way you placed her in the middle of a neighborhood where she would be found quickly. We see your love in Baby Girl's happy and healthy condition. And we see your love in the note you left, begging for someone to help her when you couldn't do it anymore," the message states.
Advertisement
"While we will never allow money to be a hindrance and welcome anonymous drop-offs, we see that you have done what you thought was best for your beloved puppy and we are grateful for your compassion. Please be assured she is safe, is receiving loads of attention from our team, and is well on her way to finding her next loving family very soon. We wish you all the best and hope that by seeing this you can rest a little more peacefully knowing that your Baby Girl has a bright future ahead of her", concluded the heart-breaking post from the volunteers.