Everyday life geniuses! Here are 20 clever people who have amazed the web with their very original ideas!
1. Forgot your fork at home at home? Office supplies are all you need.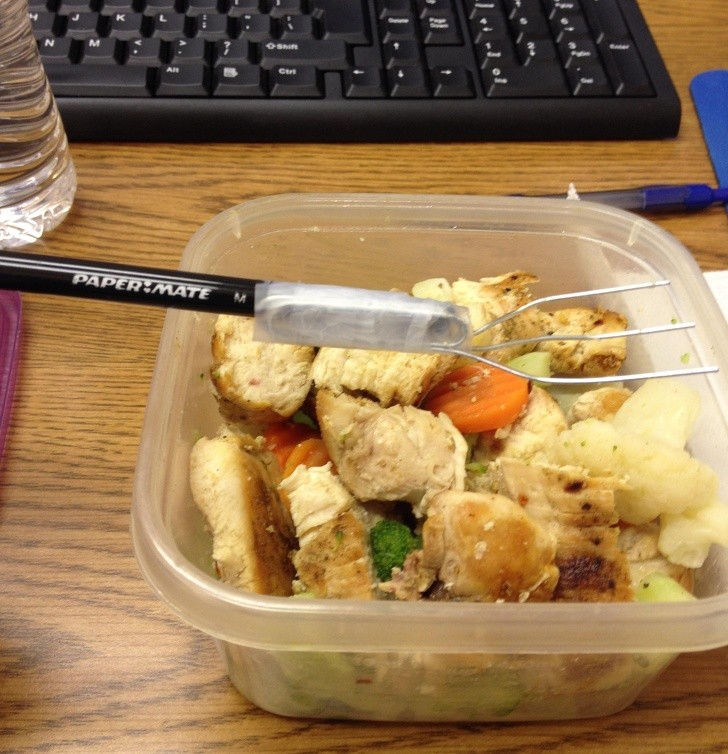 2. Why use a beach towel when a bedsheet with elastic corners can keep your little daughter happy and safe from the sand?
3. Ok, maybe we put Lego away too quickly ...
4. "My father sent me a picture of our new pool, that is, our old pick up truck!"
5. Survival slippers? What an original idea ...
6. When they told you that with those dreadlocks you would never be a good father.
7. The right combination of analog and digital.
8. Who needs a big screen with a truck parked in front of the house?
9. The Rambo of productivity.
10. Making sure you never lose your suitcase.
11. My work helmet got left at home but my head is protected anyway.
12. My smartphone battery will not stop my desire to listen to music while I am on the go!
13. "The boss had told her that her hair was too long."
14. "My boyfriend repaired the pot lid."
15. "Do you like the new basketball net?"
16. Iron slippers for training like in Japanese cartoons.
17. "If the mayor does not repair the potholes, we will plant flowers in them."
18. Fully automated bonfire.
19. Think twice before throwing away your old computer.
20. Bending reality to your will. Literally.