Nails in the shape of teeth and the other extreme creations at this aesthetic center exceed all imagination!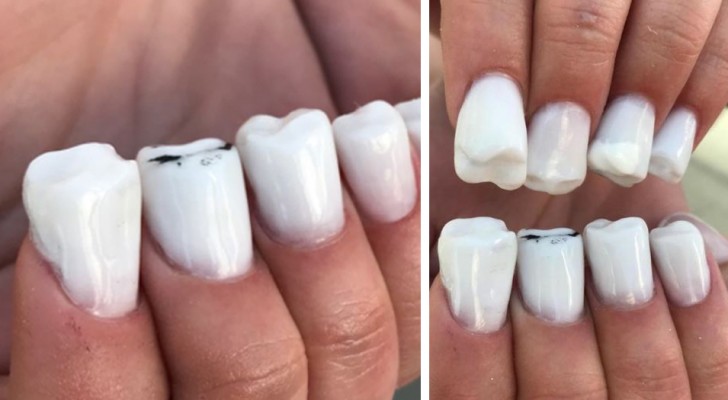 Advertisement
Getting a manicure has always been a way to take care of our hands which are like our "business cards" when we introduce ourselves.
However, having perfectly groomed and elegant hands today is no longer enough! The goal is now to amaze and to be unique.
Thus, nail art - the art of rebuilding and decorating nails - has become a fundamental part of every aesthetic center, and has given rise to ever more incredible and amazing creations.
An example of this is the proposal coming from the Nail Sunny beauty center in Russia --- with their molar teeth-shaped nails!
Advertisement
As you can see from the picture, the nails seem to reproduce quite faithfully human teeth - including imperfections! Thus, if overlapped, the hands have the appearance of a mouth! A definitely atypical look, which despite the questionable taste, seems to have found its own niche market, becoming trendy, at least in Russia! ... is it possible that this trend will also spread to us?
In any case, to satisfy your every curiosity, in the video, you will find a detailed description of the way in which these molar teeth-shaped nails were made using nail polish, acrylic, and white dye, combined with a lot of patience and a very special taste!
Advertisement
However, these are not the strangest creations that can be found at the beauty center! On Instagram, on the Nail Sunny, profile, you can find many more, such as these funnier and more amusing nails in the shape of Sailor Moon characters!