22 people who have personalized their car in a truly original way
Simon's Cat will NEVER stop finding a way to get fed!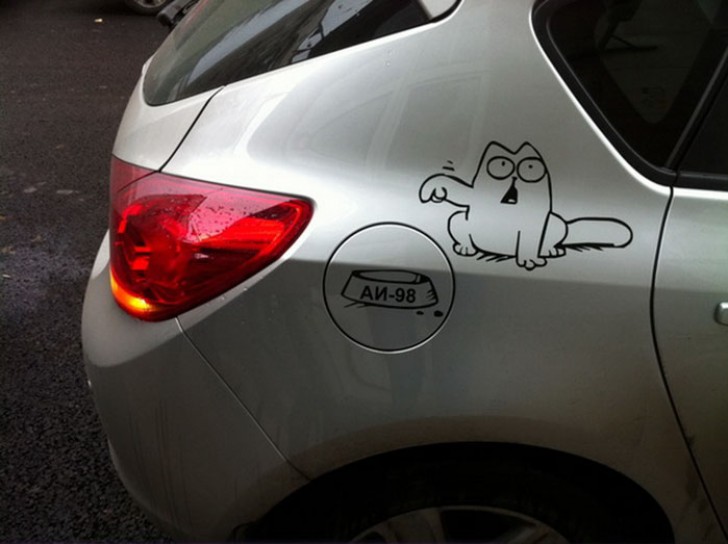 A steampunk-style little Volkswagon beetle, a little masterpiece!
Interesting external image with the family dog in the passenger's seat ...
If you are involved in a car accident and you are an expert designer, then your car becomes even more beautiful!
I'm a prankster and I'm not afraid to let you know it!
Do you want to get a colored lights effect for your car dashboard too? Here's what you can do!
Made to measure!
Sometimes you do not even need to repair the damage but just let yourself get carried away by creativity.
Buying colored rims definitely gives a touch of originality!
When the person creating the car accessories is a grandmother ...
When there are a lot of rainy days, even Schwarzenegger's muscles would be sore ... Or no?
Somebody loves van Gogh and does not intend to hide it.
Has anyone ever seen car floor mats like these?
Ian Solo and Chewbacca are ready to drive you around!
Star Wars is always the most popular --- here is the BB-8 wheel version!
There are those who manage to distinguish themselves using practically nothing!
Next time they will think about it before touching this bumper!
A really unique side mirror!
A perfect succulent micro-flowerbed! Beware of where you put your hands, though!
Repairing the door would have cost much more!
Again it is Van Gogh who keeps the drivers behind .... the Van ... Go!
We conclude by crowning Star Wars the king of all car decorations! In fact, here we see that the windshield wipers are shaped like a lightsaber!