22 People Who Have Demonstrated A Cleverness That Is Out Of The Ordinary
1. A bathroom suction cup handle can replace a broken microwave handle.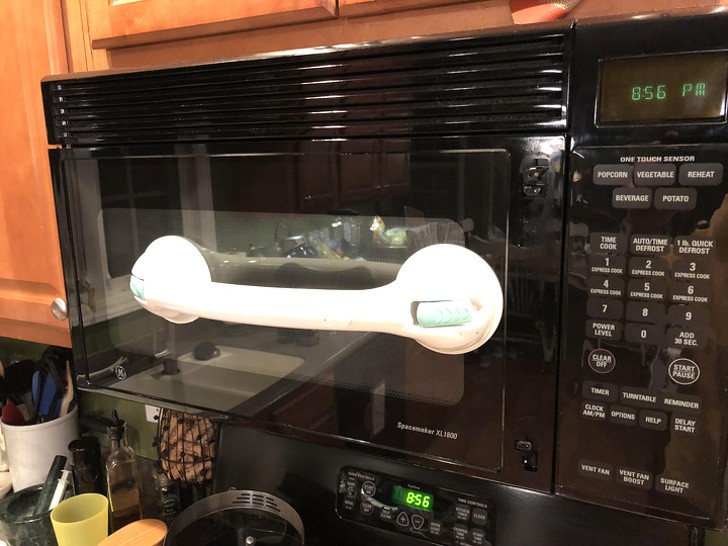 2. One more handle, this time made entirely with duct tape.
3. Halfway between a bike and a mechanical kangaroo! Would you have the courage to ride around on it?
4. How to make a snow plow more efficient with a simple cardboard carton
5. Chinese spring rolls made "on demand"
6. For a big hedge, it takes a big idea!
7. How about repairing a bicycle by replacing a wheel with a skateboard?! A new brilliant means of transport ...
8. For all those who do not have time to water their garden, an ingenious system of effortlessly irrigation!
9. Multi-purpose sewing course using duct tape and sutures for your car!
10. Using a wire and a GoPro camera, you can capture your most exhilarating moments at 360 degrees!
11. When you do not have a rubber tube but only a bottle --- and a lot, a whole lot of imagination!
12. Extremely practical for very cold climates is using an ordinary boat converted into a motorized sled!
13. Transport a cake safely using plywood and duct tape ... maybe even tape the plywood to the seat!
14. Suitable for those who have large fingers and must do a lot of writing --- a computer keyboard connected to their smartphone.
15. Reduce your electricity bill ... and maybe even sell some energy to your neighbors!
16. A practical way to tie your hair in the absence of an elastic hairband when you're at the office.
17. Here is another use for a paper clamp to replace a lose button and close your pants.
18. For barbecue lovers, a brilliant idea to cook meat perfectly!
19. Motorize your skateboard with a simple battery-operated drill.
20. The portable folding handle ---a simple but optimal solution for all commuters that use public transport!
21. A motorbike (that) saws!
 22. Very clever fathers who know how to combine profit and pleasure!
Related Stories