20 brilliant ideas to transform a small balcony into a welcoming and functional place
1. Your balcony can become a comfortable alcove just by using simple cushions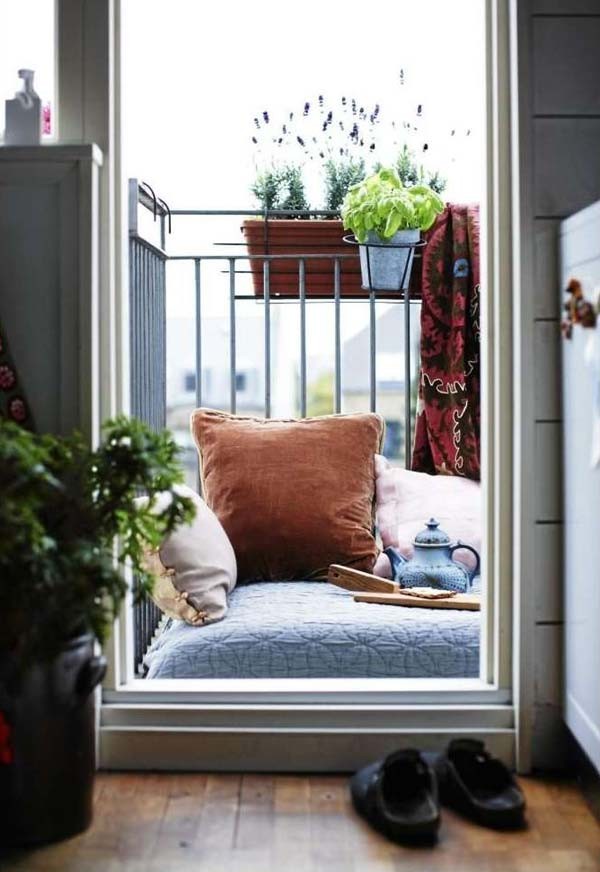 2. By painting a simple stool with bright colors, you will get a coffee table with a spring or summer flavor!
3. For those who have the appropriate supports, a balcony hammock can be an ambitious but effective idea
4. A sofa and some soft cushions for a thousand and one night's atmosphere!
5. A small table and lamps with soft lighting can be the perfect setting for an aperitif or a romantic dinner.
6. Folding tables are a perfect solution to not lose an inch of space!
7. A decidedly luxurious result ... in a few square feet of space!
8. Hang plants up or use tall plants that long trunks and leaves on top!
9. For the lovers of recycling, here is a project with excellent results
10. A cable reel can become a very stylish balcony table
11. When there is not much space, fold-down shelves or tables are the right choice!
12. A simple wooden fruit crate can be transformed into a very elegant looking table
13. Even old painted tires can give personality to your terrace!
14. Need an economical coffee table? Get it from a small wooden pallet!
15. A special desk that uses a balcony rail as a support saves a lot of space!
16. And even in case of breakfast or aperitif ... a hanging table allows you to save precious space!
17. There are many space-saving solutions on the market
18. There are DIY projects that always offer imaginative and effective solutions!
19. Using ingenuity is always a good solution!
20. The main rule is obviously to make the most of the spaces, preferring accessories that can be hidden or used as needed.