19 tips to renovate the interior of your home without spending a fortune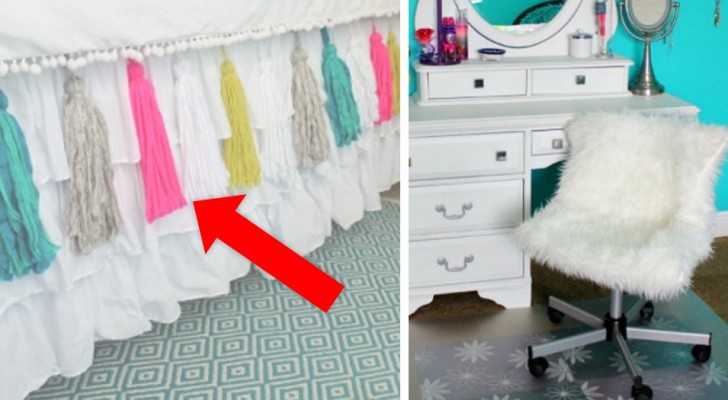 Advertisement
Renewing your home is an activity that must be planned, both because it may take longer than imagined, and it is, therefore, preferable to choose a moment not too crowded with commitments, and also because it requires an economic investment that in some cases may be considerable. 

However, if you are planning to renovate your home using the help of DIY tutorials and upcycling, then everything becomes easier, also from an economic point of view.
In addition, remember that you can "rejuvenate" your living areas by simply changing some details. Here are some examples of what to renovate to give the whole house a new look. 

Where present, click on the links below the images to view the complete tutorials!
Advertisement
1. The chairs used in the bedroom can be transformed into an office chair.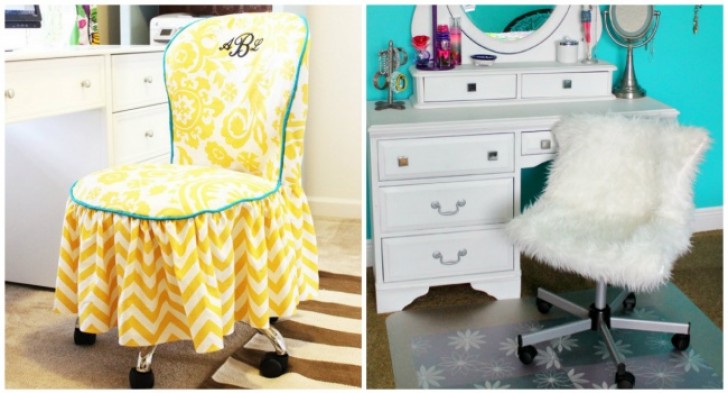 If you work from home or if you have a hobby that requires you to spend a lot of time sitting, you will probably want a very comfortable chair. Here's how to create one starting from the one you have. You can cover it with soft padding or a warm fabric such as wool or flannel.

Source: freshideastudio.com
Advertisement
2. Mosaic vases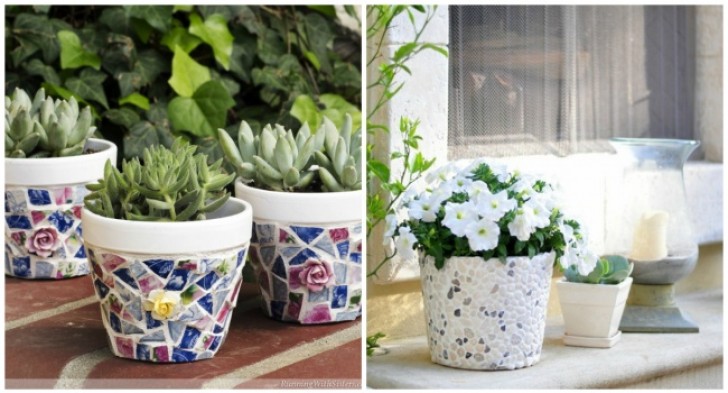 Are you desperate because you broke your favorite cup? Know that you can give it a new life, using the shards to create a vase with a mosaic effect. You can also use small river stones!

Source: centsationalstyle.com
3. Give an original frame to your mirror.
If you have a mirror at home, take care to frame it properly. There are many DIY ideas available that are easy and very cheap! These two are especially nice.

Source: marrietta.ru
4. Use an old door.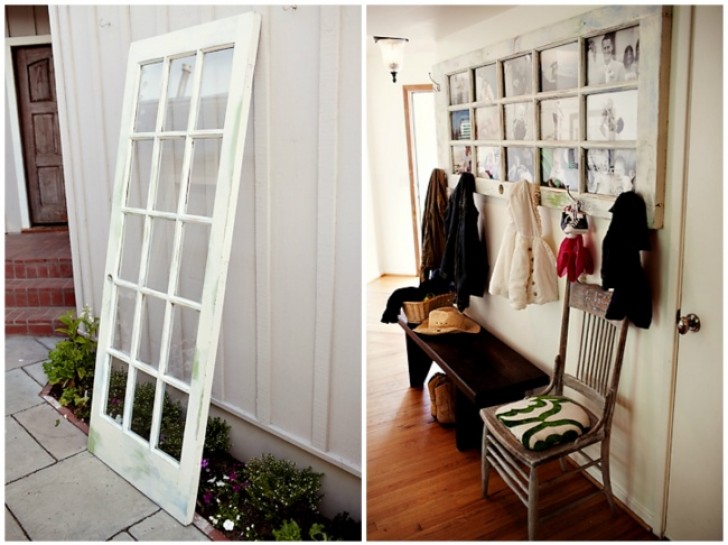 A door that is no longer used can be upcycled to create a nice corner in your corridor or immediately after the entrance way. On the bottom side, you can attach hooks to hang jackets, hats, and scarves, while on the framed glass you can attach your most beautiful photos!
5. Use the fireplace to decorate the room.
Many houses have a fireplace that is never used. If you find yourself in this same situation, here are some ideas that could be just right for you. In order not to chill the room and to prevent dust coming out from the chimney, close the chimney and take advantage of the space at the bottom, as well as the upper shelf, to display decorative objects.

Source: freshome.com
Advertisement
6. Decorate your walls.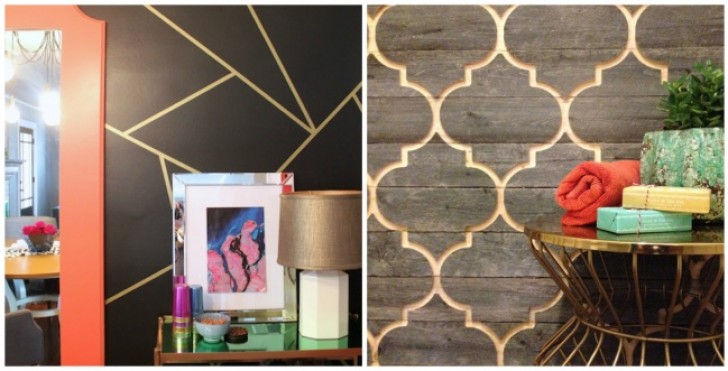 If you think that your walls are too empty and poorly decorated, you can opt for a decoration idea that is different from usual. In fact, instead of applying wallpaper or painting directly on the wall, a solution could be to apply special adhesive strips, to create some very nice geometric patterns.
7. Give new furniture a new life.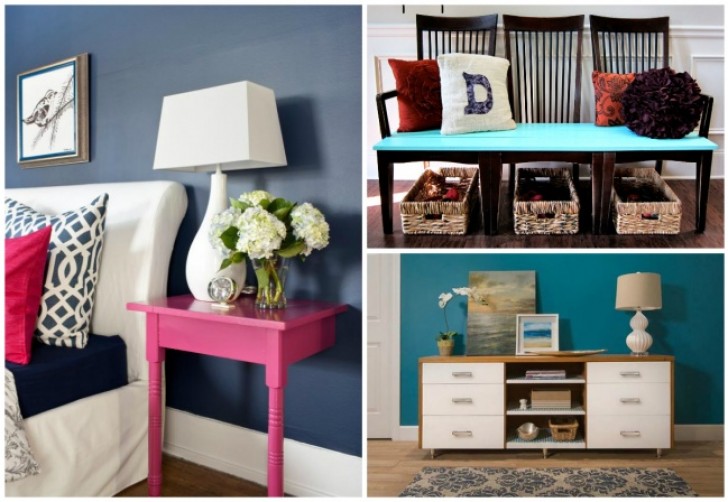 Renewing your home does not only mean buying new objects but also knowing how to give new life to old ones. Here are some ideas to give a touch of modernity and personality to old furniture.
Advertisement
8. A touch of color to the bedroom.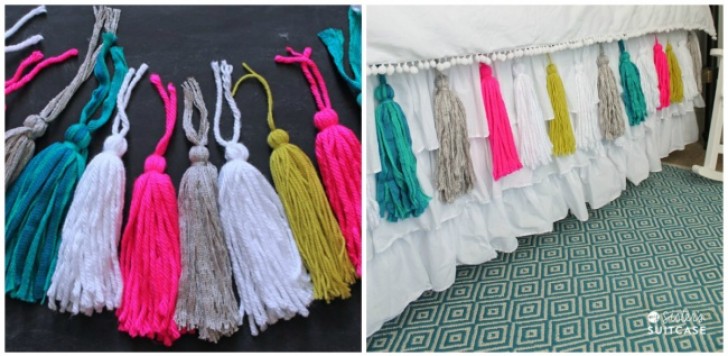 Are you thinking of renovating your bedroom? A nice idea is to sew these colorful tassels for curtains on the edges of bedspreads.
9. Decorate a room with a do-it-yourself rug.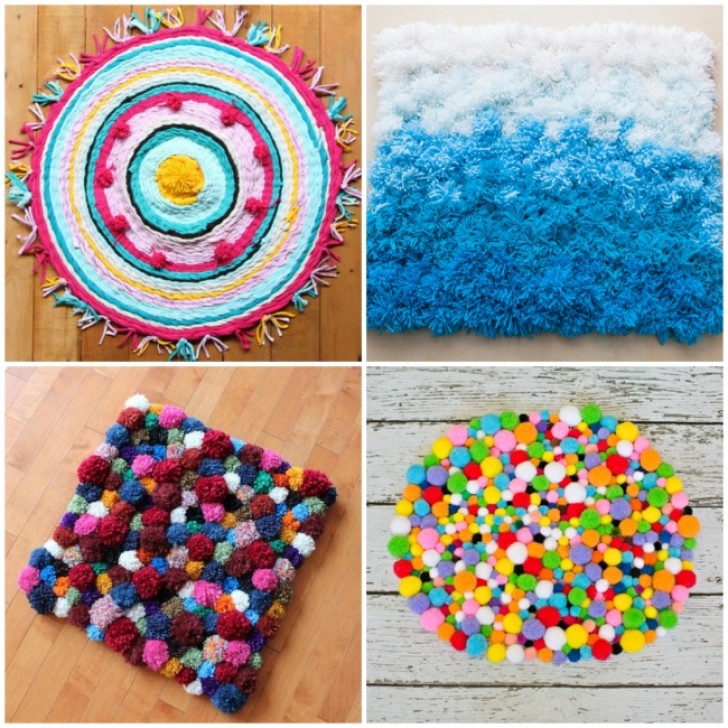 If you love fabrics and the way you can decorate a room with them, we suggest you create one of these do-it-yourself rugs and make it the protagonist of an environment. Making them will take some time, but the end result is exceptional!

Source: apieceofrainbow.com, brit.co, decoratingyoursmallspace.com, hellowonderful.co
Advertisement
10. Do not underestimate chandeliers.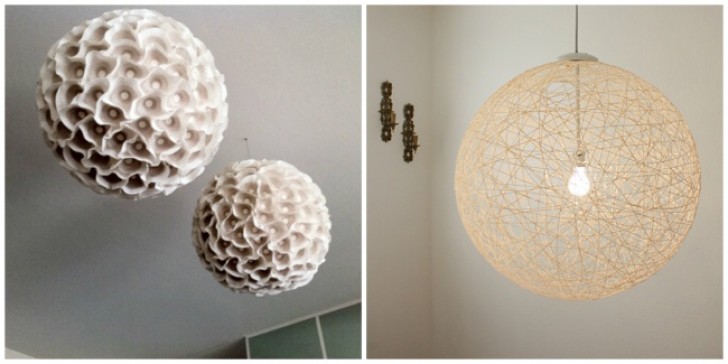 In addition to enhancing the height of a room and giving centrality to an environment, chandeliers are an important decorative element. Can you believe that these two examples were created from simple DIY ideas?

Source: madebygirl.blogspot.ru
11. Renew bathroom or kitchen tiles.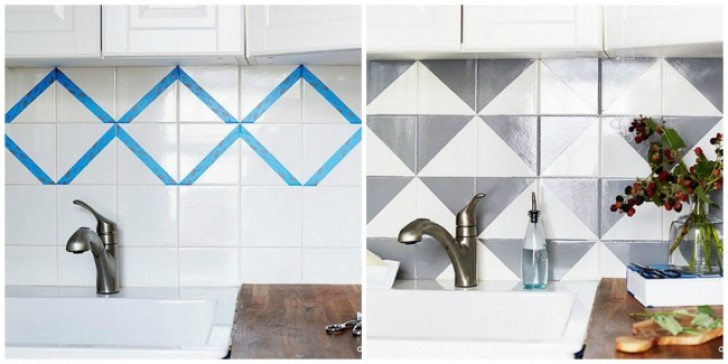 Is changing the bathroom or kitchen tiles too expensive? Remember that you can always paint them!
Advertisement
12. Enhance sofas and beds with cushions.
Do you want to get rid of some old clothes? Consider the idea of ​​using them to create original cushions!
13. Details on curtains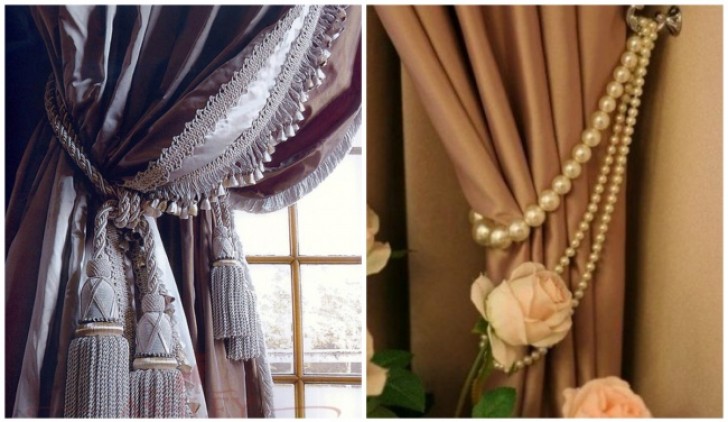 If you have curtains installed at home, decorate them with some details! For example, you can spruce them up with a pearl necklace instead of the usual tassels.

Source: ideas.vdolevke.ru
Advertisement
14. A panel that decorates the whole room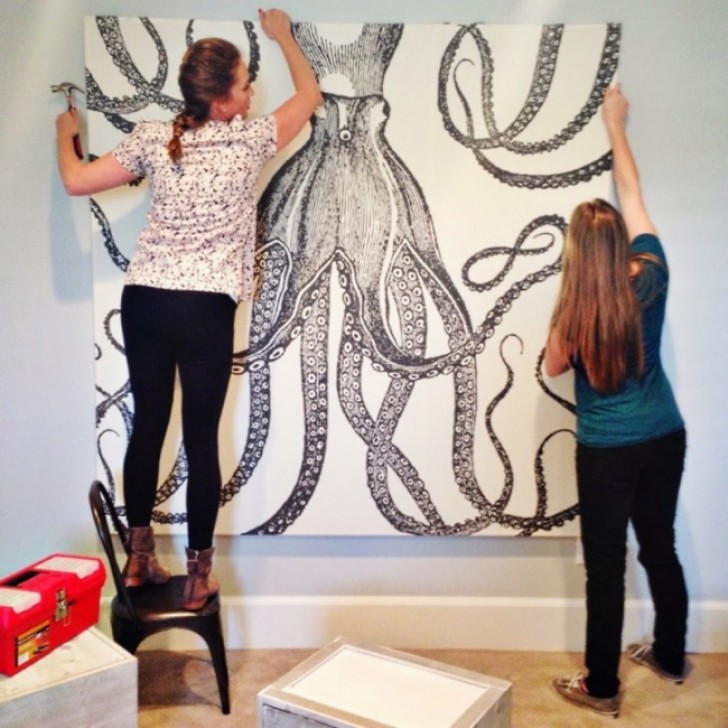 If you have little time to fill a room that is too empty, an idea is to enrich it with an XL print. You can choose from the most diverse motifs and designs!
15. A new way to use picture frames.
Have you ever thought about using old frames to create shelves? The final result is quite impressive!
Advertisement
16. Roman blinds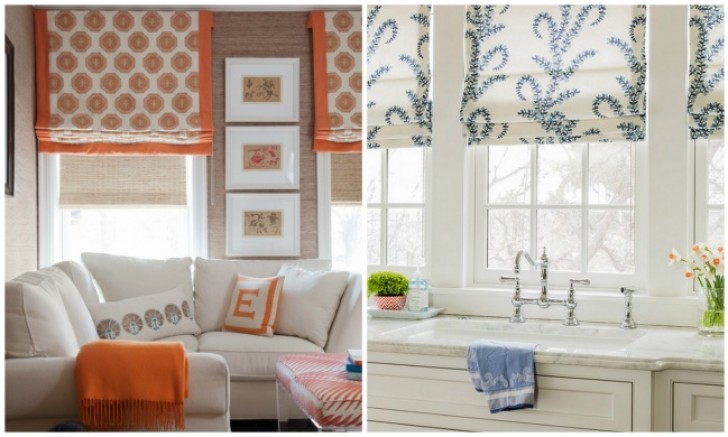 If you want to enrich an environment, you can opt for Roman blinds! In fact, they are less cumbersome than curtains with rings and even more modern. You can choose them with a fantasy motif that matches the rest of the room.

Source: homebunch.com
17. The evening atmosphere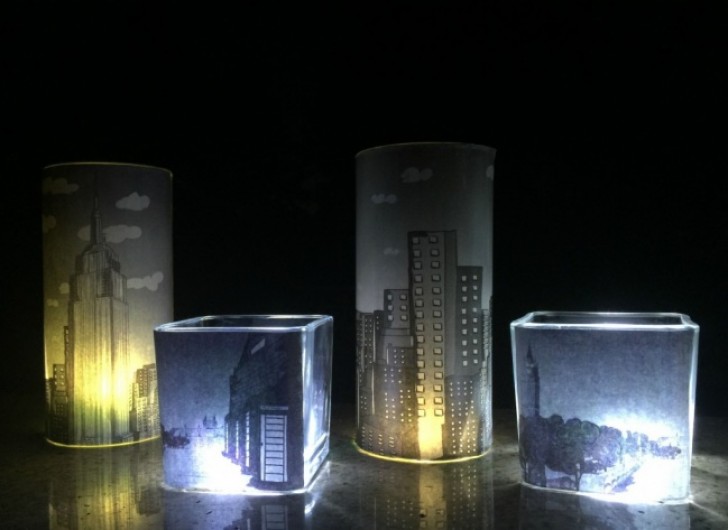 It is a good idea to consider the appearance of a room both during the day and night. This is because the needs for the room could change at sunset and it is nice to then be able to create a comfortable environment also for the evening hours. To do this, for example, you can enrich a corner of your home with these DIY lamps.
18. Light points used and displayed in complete safety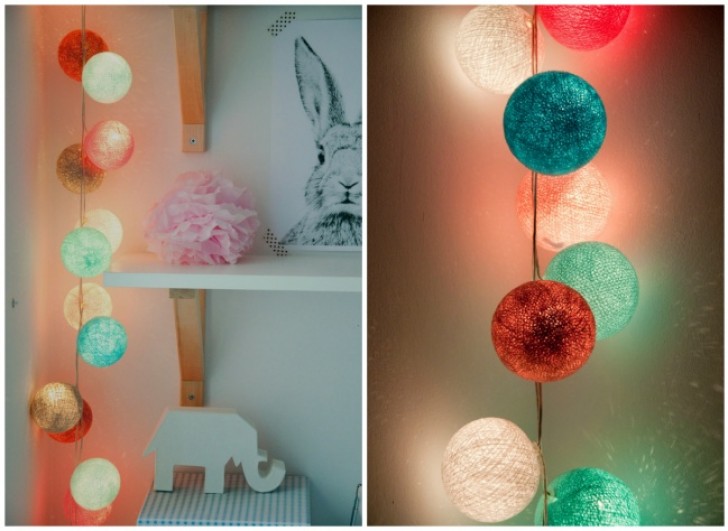 These decorations should be applied to a Led string of lights to avoid overheating. Therefore, it is a good idea to choose a string of lights that produce very little heat.
19. The detail on headboards.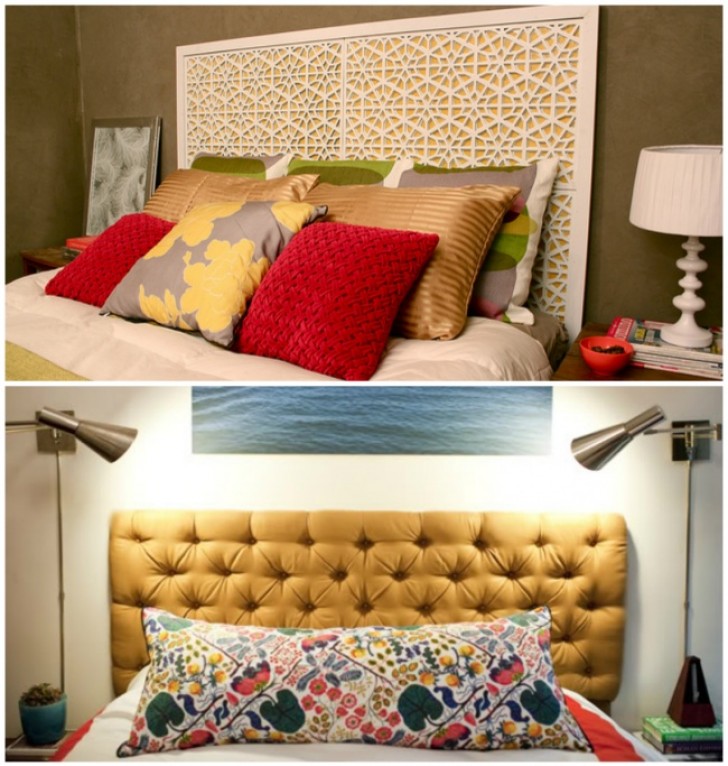 Do not forget the headboard! It is an opportunity to give character to a bedroom and create an original environment! Here are some ideas you can follow ...

Source: littlegreennotebook.com
Advertisement