20 animals that have started a new life after being adopted
This is Edgar, before and after being adopted (behind him is Steve, the first puppy I adopted).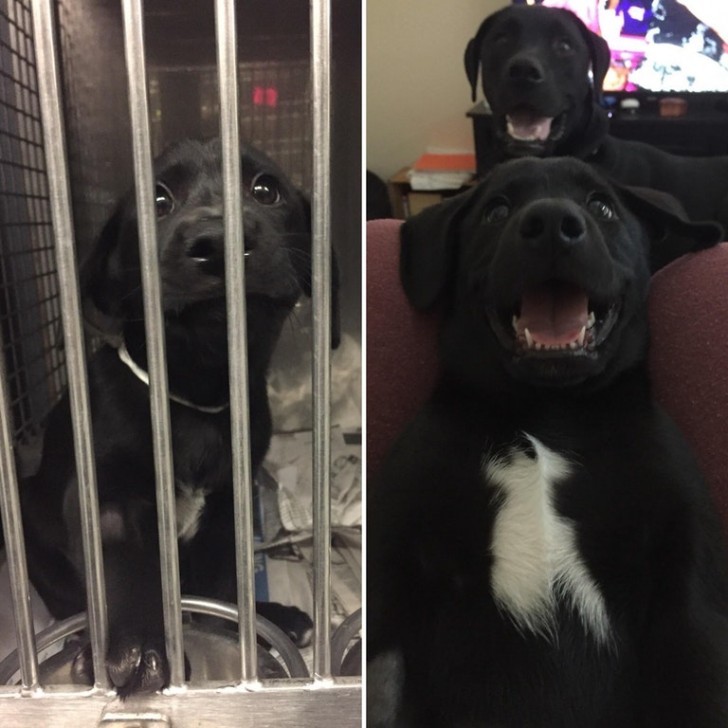 A year ago I found Jake under a car, alone and frozen. He was only 4 weeks old, his mum was gone. Now it's a giant kitten with an incredible character!
The day I brought him home and two years later. What difference!
Roxx, after only 4 weeks of treatment.
In a short time and with lots of love.
I found her 9 years ago in the middle of an empty parking lot, at night, where she was meowing loudly from hunger.
His name is BenBen --- he had been attacked by other animals and everyone thought he would not make it ...
When I found him he was covered in fleas, malnourished and without his mother! A year later he is a healthy tomcat!
The night I found him on the road and a week later.
She was a stray kitten that my husband had found in a puddle. She was full of worms and had a respiratory infection. Today. Bella is a very happy girl!
My best friend, a crossbreed of a German shepherd saved from an abusive dog breeding farm. I introduce you to Rocky!
Wynter has gone from sleeping on the streets to relaxing in my garden!
Exactly one year ago we saved this beautiful dog.
Little Fry had a serious eye infection but look how she is back in shape!
A good boy on the day he was adopted and three years later.
This puppy was found in a sewer pipe and when he was five weeks old. Now, he is a beautiful one-year-old dog!
She was so thin that it was scary, but today she is in excellent shape!
Madeleine was found in a dumpster and then taken to a dog kennel. My mother fell in love with her and brought her home.
That look broke my heart but now, every day my dog fills me with joy!
The best choice I've ever made!