18 images that reveal some behind-the-scenes curiosities regarding several famous films!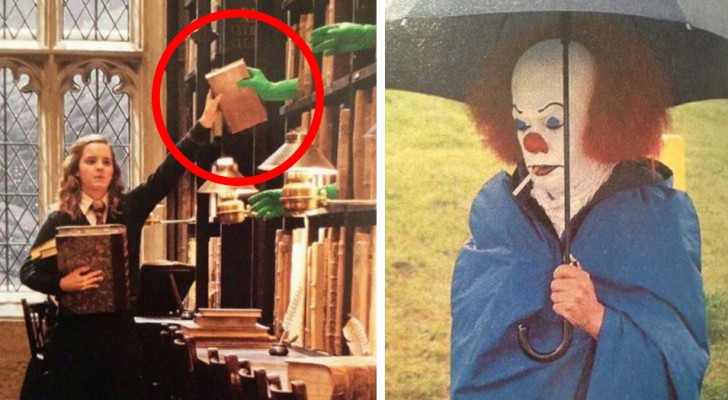 Advertisement
What did our favorite actors do during the breaks between one scene and another, while they were on the set of films that have made them famous?
Although we are inclined to imagine that they remained totally in character, however, they also needed to keep in touch with real life, take rests and coffee breaks, smoke, socialize or learn about the events that were taking place in the world.
Let's sneak a peek at some behind-the-scenes images of several movies that have made history!
Advertisement
"The Lord of the Rings" --- Gandalf the Gray and his new devilry.
Advertisement
"Harry Potter" --- The preparation of the death and farewell scene for the house-elf Dobby.
"Birdman" --- The award-winning director Alejandro Iñárritu with Edward Norton and Emma Stone.
"Shining" --- Wendy smoking a cigarette to exorcise her fear ...
"Matrix" --- The green screen setup for the final confrontation between Neo and Agent Smith.
Advertisement
"2001: A Space Odyssey" --- One of our ancestors who tries his hand at smoking a cigar and reading a newspaper!?
"Back to the Future" --- How to structure a successful action sequence with special effects.
Advertisement
"Mulholland Drive" --- Director David Lynch poses with the scary demonic bum.
"Kill Bill" ---The protagonist Uma Thurman and the stuntwoman Zoë Bell.
Advertisement
"The Lord of the Rings" --- The hobbits relax with director Peter Jackson on a bench in the Grand Gorge, home of the Elves.
"IT" --- A not very credible clown ...
Advertisement
"X-Men - Days of a Future Past ". Tyrion Lannister (Peter Dinklage) together with the young X-Men!
"Requiem for a dream" --- A close-up with Jennifer Connelly.
Advertisement
"I Am Legend" --- The whole truth about the fearful dog-zombies.
"Grand Budapest Hotel" --- Here's how they reproduced the hotel that inspired the film.
Advertisement
"The Black Swan" --- Natalie Portman trying to terrorize the photographer.
"Pulp Fiction" --- Quentin Tarantino as he is triggered by the bizarre dance scene with John Travolta and Uma Thurman.
"The Lord of the Rings" --- Gandalf falls asleep just before he is called to film the Elrond Council scene ...
Advertisement