22 space-saving furnishing ideas that are ideal for those who have a small house
1. A small desk with a shelf that disappears when you fold it up.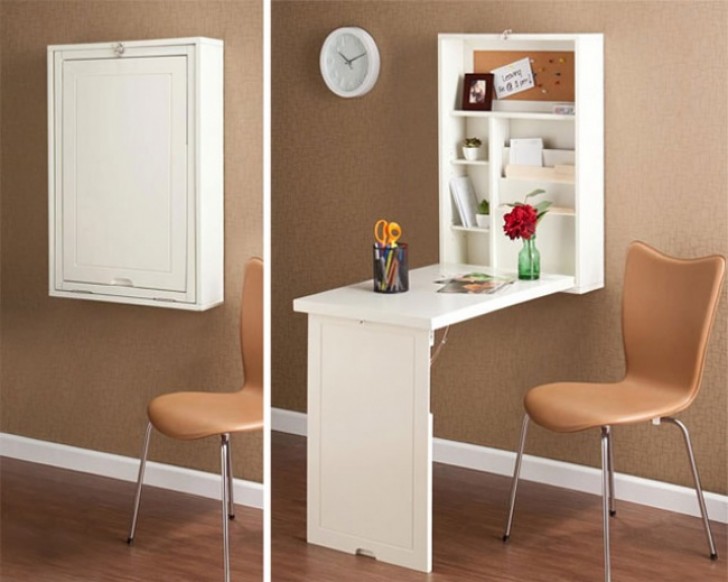 2. A fold-up table and seat.
3. A vertical shoe rack that allows you to have all your shoes at your fingertips, while at the same time keeping them in order.
4. A single mattress that becomes a soft and comfortable armchair.
5. A portable magnetic ironing mat for those who do not have room for an ironing board.
6. A staircase turned into DVD storage areas.
7. A "missile" which becomes a garden table with four chairs.
8. Four rocking chairs in one.
9. Dog food bowls --- hidden in a chest of drawers.
10. A window curtain that becomes a very convenient clothes drying rack.
11. A colorful library ...
... that hides folding chairs.
12. Sofa that becomes a bunk bed.
13. You can choose to sit on the couch and have a wall with a shelf behind your back or lie down on a comfortable bed.
14. A table with retractable chairs.
15. Deglon Meeting Knife Set of stainless steel knives
16. A convertible sofa that turns into a real tea table with matching chairs.
17. Hollow chairs where you can put books and magazines.
18. A dining table that becomes a fully functional pool table.
19. An ironing board with a mirror on the back.
20. Wall mounted baby changing table with all the necessary items for taking care of a baby within easy reach.
21. Colorful magnetic stickers for the kitchen that can hold metal utensils.
22. An over-the-sink cutting board with a cleaning bowl incorporated.