Don't feed the pigeons! Feed the crocodiles! Wow!
The web is responsible for the emergence of many negative phenomena, but at other times it is able to put an end to unacceptable circumstances thanks to the worldwide sharing of information. 
This is an example of the incident that happened at the popular crocodile breeding ground in Pattaya, Thailand, which received a 90-day suspension of their activity for seriously endangering the lives of visitors and the health of the crocodiles involved.
Everything started when a photo taken by a park guest was shared on social media and what you see will make you shiver!
Tourists come to the animal park in Anachak Chang Pattaya to experience the thrill of being surrounded by dozens of hungry crocodiles.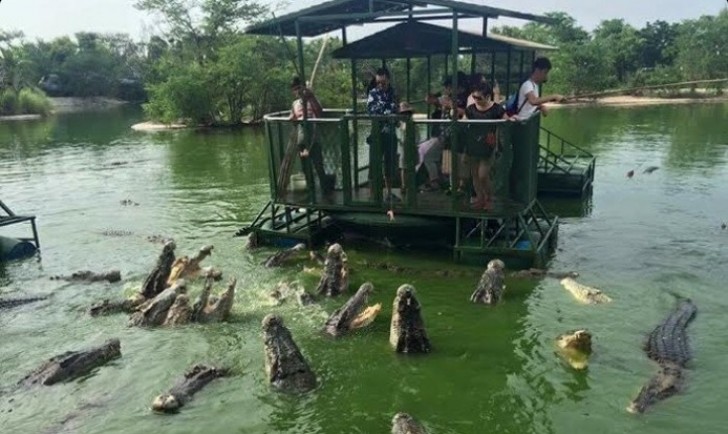 After getting on a platform in the middle of an artificial pond, tourists are soon surrounded by hungry mouths that are fed by the tourists with food provided by the zoo itself.
Those who come to this tourist attraction are often accompanied by children, and they seem to not be worried about the danger to which the children are exposed.
The crocodiles are able to jump out of the water easily reaching the "raft" platform which is not equipped with adequate security measures.
Once the photo was released on social media, the police arrived at the animal park and suspended the activity for 90 days for failing to comply with the security regulations.
The management of animal park contest the suspension by replying that a center is a place where there is no risk, in fact, entry is allowed for children of any age accompanied by adults.
The platform can accommodate only 15 people at a time and is equipped with engines and ropes that can quickly bring it back to the shore in the event of a malaise or an accident. Iron bars also prevent the crocodiles from any physical contact with the tourists.
Although the center has demonstrated the real existence of these security measures, for many, the park still remains a highly ill-advised place, which could be fatal to humans as well as to the animals themselves.
In just under 90 days, the park will return to accommodating oblivious tourists: Do you consider the temporary suspension to be a just punishment?