Autistic student fails his exams: his teacher writes him a wonderful letter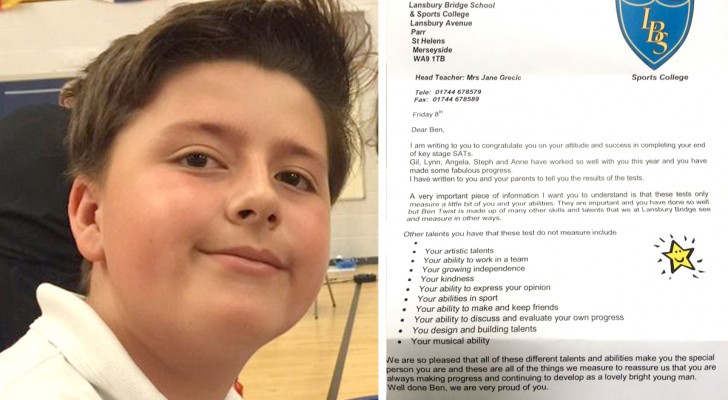 Advertisement
Deciding to be a teacher nowadays almost seems like being "a desperation choice" to bring home a salary. We know very well, however, that teaching is probably one of the most important careers that exists. Teaching doesn't just mean passing on raw information to children and adults, but means being a guide and someone who extends their hand in times of need.
In fact, after parents, it is often the teachers who spend the most time with our children and it is essential that they are open, understanding people who know how to put students at ease. Given this, here is the story of a relationship between a pupil and his teacher.
via The Guardian
Advertisement
This story took place in St Helens, Merseyside, UK, where an 11-year-old boy named Ben Twist went through one of the most important episodes of his life. Suffering from autism, the young boy attended Lansbury Bridge School & Sports College, where he had to take exams. The exams were taken, but Ben failed. This negative outcome could have been very damaging to Ben, but then a special person stepped in and turned everything around.
Ruth Clarkson is one of the teachers at the college who has followed Ben since he started there. Ruth wrote Ben a letter of encouragement after finding out that he had failed the exam. The picture of the letter was shared by Ben's mother, Gail Twist, who said she was extremely moved by the teacher's beautiful words, which read as follows:
"Dear Ben, I'm writing to congratulate you on the way you handled your final year exams. This year's work has led to some fabulous progress. I wrote to you and your parents to let you know what the results of the test were. I want you to understand something very important: these tests measure only a small part of you and your abilities. They are important and you have dealt with them very well, even if you did not pass. But Ben Twist is more than just this test, and you have many other valuable skills and qualities".
Among these qualities, the teacher underlined the boy's artistic flair, his growing independence in dealing with issues, his kindness, sporting skills and many other characteristics that make him a wonderful boy and student. The letter continued: "We are extremely satisfied with the progress you are making. It is your qualities that make you special and that will turn you into a brilliant and successful young man. We are proud of you, Ben".
This kind words helped Ben and his family come to terms with his failure to pass his exams. Managing a child is not easy, even more so when they need special attention. But knowing that at school the child is surrounded by people who understand and support them, is very comforting.
There are many teachers like Ruth out there and we need to acknowledge their pivotal role in raising our children. Well done, Ruth and good luck, Ben!