Woman turns a minibus into a home equipped with every creature comfort: the interior is charming (+ VIDEO)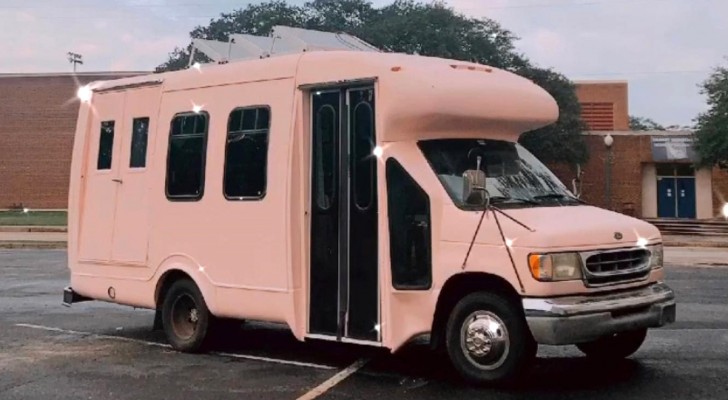 Advertisement
Sometimes a crazy thought can cross our minds: a whim, a daydream, a wish for a new start, to leave everything and travel far away. More often than not, however, we find ourselves forced to "wake up" give up on these "crazy" ideas. But perhaps we should just try a little harder to make our dreams come true...
A good example of is the subject of this story who decided to completely change her life, using... a minibus.
via Youtube
Advertisement
Her name is Rita Marie Carr from Denver, Colorado. Legally (in many places), you don't have to have a "fixed" residence and this is precisely the choice Rita made.
Rita changed her life out of the blue - well, actually the pink. She decided to buy a minibus, paint it pink and live in it permanently!
Rita was an employee in a large company where she worked as an engineer. Now she has given everything up.
Advertisement
Rita bought a Ford minibus which she named Wilbur and immediately started converting the vehicle into a home.
It cost her less than $9,000 to make her dream come true: mostly she used recycled materials that she masterfully repurposed to suit her needs.
But how did her "crazy idea" come about?
It all started when Rita realized she could work remotely. This she initally did in her Jeep Wrangler, which was large and spacious enough to allow her to do her work in moderate comfort.
So later, she thought: "What if I 'expand' this joy of autonomy and independence?" What if I could even live in a vehicle I have customized to my needs?"
And so, this is what she did: mostly doing the work by herself, Rita converted the minibus into her home.
But not everything has completely changed in her life: Rita still works as an engineer, but does so completely remotely.
She has now lived in her converted minibus for more than 3 years, and has been able to spend more time on another of her passions.
Rita loves art: she is a talented young woman and artist who loves creating beautiful artwork more than anything else.
To this end, she has a small art studio in the minibus and can paint in complete comfort; she certainly doesn't lack getting inspiration from the breathtaking views she can enjoy wherever she choses to stop!
You may be wondering if Rita suffesr from loneliness as she travels around on her own. But she's not exactly on her own.
Advertisement
In fact, Rita has two loving dogs that are always by her side! They follow her everywhere and accompany her on all her travels.
The sofa in the mobile mini-apartment flips over and extends, becoming the dogs' bed!
Dropping everything and starting from scratch (or almost), is proven here to be feasible: you just believe in it and really, truly want it!
Advertisement