These Siamese twin sisters are literally joined for life, but "only" one of them has a fiancé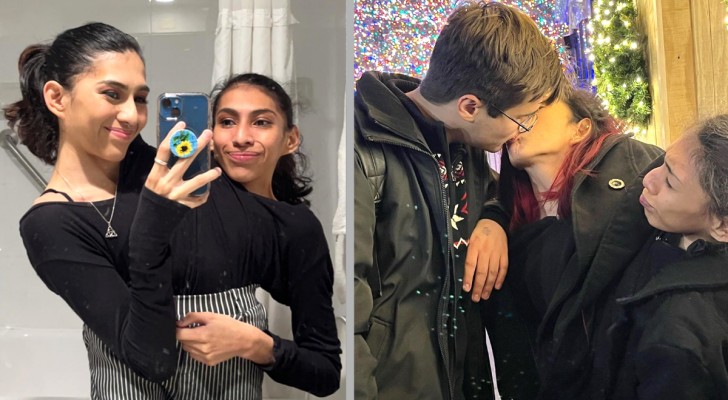 Advertisement
Being part of a family is, in the vast majority of cases, a blessing: the love and support of parents, brothers, sisters and, of course, relatives, is fulfilling. A close family always helps each other out, offers advice, comfort and helps us become "nicer" individuals. Not only parents - who are naturally the cornerstones - but others can be supportive too.
Sometimes, however, "being together" can be very literal. The subjects of this story love each other very much, and their union goes beyond solidarity and kinship: they are, in fact, Siamese twins.
via Dailymail
Advertisement
Lupita and Carmen Andrade, 22, are Siamese twins from Mexico and, by definition, they share the same body.
In case you were wondering, no, they cannot be surgically seperated: the operation would be fatal for one of the two and they both have learned to live in harmony with each other.
The two girls get along very well, but, of course, they had to find a balance and establish "rules" for their lives. For example, one of the two young sisters, Carmen, is engaged while Lupita is not.
This is a decidedly unusual relationship when we include Daniel, Carmen's boyfriend. However, the two sisters have been able to adapt well and support each other emotionally: "This strange reality is actually pleasant. It's all about finding the right compromises: for example, I usually fall asleep before Lupita, but when Daniel comes to visit us at home, I also stay up and talk to him!" Carmen explained.
However, there are also times when small conflicts arise: "It has happened that I have felt a little down because I wanted to spend more time with Daniel, but my sister didn't want to. So, we try to compromise: maybe Lupita chooses where go to dinner or what activity to do on our date, for example," Carmen added.
These two sisters have a very special relationship and are proof that there no obstacles you can't overcome when you support and love each other.