14-year-old gives birth to triplets: a nurse adopts the children and their mother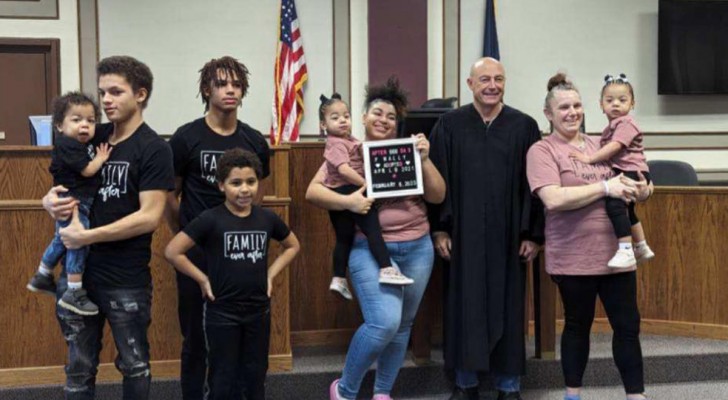 Advertisement
Adopting a child is a wonderful act of love, but considering of taking care of a young mother with her three newborns is in another league. Some mothers have serious financial and social difficulties, and finding someone willing to help them can make all the difference. Furthermore, this experience can be equally rewarding for the adoptive family.
This is the case of Katrina Mullen, a nurse from Indiana, USA; who decided to adopt a young teenage mother - and all her children!
via Today
Advertisement
Shariya Small gave birth to triplets at just 14 years of age: the children were hospitalized for the first four months of their lives, during which time Shariya formed a very strong bond with her nurse, Katrina. Although the young mother wasn't a fan of Katrina at first, a bond slowly developed as Katrina helped her with the babies.
The young mum wasn't ready for all the responsibilities that parenthood entails, such as feeding, changing diapers and the other tasks parenthood entails. Their friendship eventually bloomed, despite initial disagreements over the hospital rules. Later, Katrina told the young woman that she would always stand by her side: "I knew that I would always be in their life in some way or another."
Advertisement
After Shariya and her children were discharged from the hospital, she returned to her home and was completely on her own. Luckily, Katrina had given her phone number to Shariya and kept her promise to help her. Katrina and Shariya met chatted over the phone, exchanging parenting advice. Katrina also frequently undertook the two-hour round trip just to visit Shariya and her children and spend some time with them.
Later, when one of Shariya's children was hospitalized, the Indiana Department of Children's Services decided to investigate the teenage mother's home situation. After the investigation, an officer decided to separate the children. In a panic, Shariya called Katrina. Katrina knew that few foster homes would accept a teenage mother with three children, so she decided to adopt all four of them. "I didn't want them to be separated. I wanted them to all stay together," Katrina said.
This nurse is a shining example of compassion and dedication to others. Not only did she take care of Shariya's three newborns, but she also offered support and affection to the young mother, who was in a bind. Her determination to keep the family together and her commitment to providing a loving and safe environment for children are examples of how one act of kindness can have a lasting impact on the lives of others.
Advertisement