10-year-old boy doesn't have a family to care for him: two teachers decide to adopt him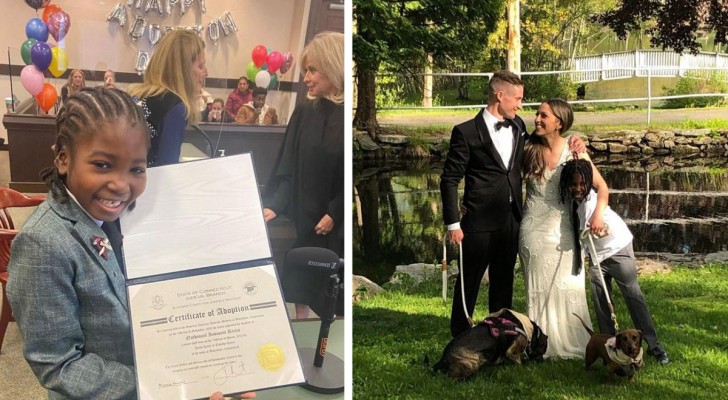 Advertisement
Adopting a child with special needs is an experience that can be very emotional: these children are looking for love, attention and care and adopting them means giving them all this, and a lot more. But, despite the extra effort required, adopting a special needs child can be very rewarding for everyone.
Jenna Riccio knows this very well. Jenna is a teacher and in December 2018, she met a new student called Nate, who impressed Jenna with his sweet, shy nature. Nate had just enrolled in the Walsh Elementary School in Waterbury, Connecticut, where he was the only child in a wheelchair.
Advertisement
Nate is a young boy who suffers from sickle cell anemia, a genetic disease that affects the body's red blood cells. "He was very quiet," Jenna explained. "Sometimes he cried for no reason. I think the sudden move was very difficult for him. It took a long time for him to get accepted and to open up to everyone." At the time, Jenna was teaching at Nate's school and she did her best to create a welcoming and inclusive environment for him.
Nate frequently had to go to the hospital for treatment and, in 2019, when he was hospitalized, Jenna visited him. Later, found out that Nate had been placed by his biological family into foster care with the Connecticut state Department of Children and Families. Feeling very sorry for the boy, Jenna decided to visit him in the hospital, as he had no family doing so. "I thought it was very sad Nate not having his family there with him. It was then that I started thinking about adopting him," Jenna said.
Advertisement
Jenna dived into all the red tape and less than two weeks later, she became Nate's adoptive mother. Experts came in to inspect her home to make sure it was safe for Nate and the whole process took only 10 days. After Nate was released from the hospital, Jenna took him home with her. This took place on October 3, 2019. A little while later, Jenna met Tim Riccio - also a teacher at Walsh Elementary - and the couple wed on May 15, 2021, with Nate attending as a page boy.
"He's been through so much in his 10 years of life and every day he wakes up with a smile on his face, ready to take on the world," said Tim. "He's an inspiration to me, to Jenna, and to every member of our families. I've met a lot of kids since I started teaching, but Nate is special. Even though he's been through some difficult times, he's never grumpy or sad. Instead, he has a 'luminous aura that no difficulty can dim," Tim added.
Nate's story demonstrates the power of resilience and remaining positive even in the most difficult of circumstances.
Advertisement