"I've had gray hair since I was 9 and have always dyed it out of shame: not anymore"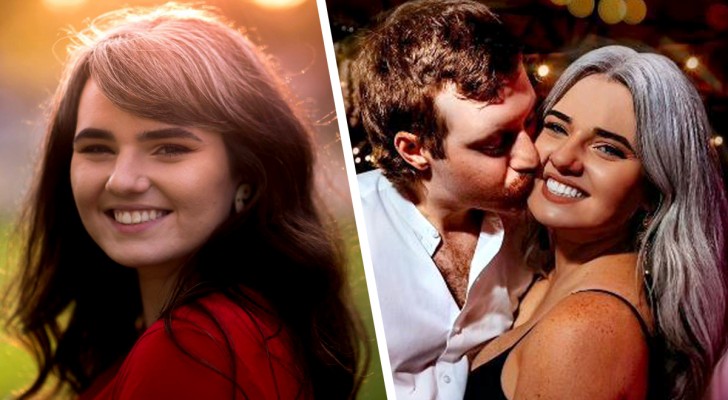 Advertisement
Although in recent years, more and more women have chosen platinum hair dyes, most still try to "hide" their grey hair: indeed, many women feel very uncomfortable with their natural, grey hair showing.
Young Zoë Miolla knows about how this feels very well. Zoë discovered her first grey hair at just 9 years old and was almost completely grey by 12 years old. After battling against her greying for years without success, Zoë decided to change tactics.
via New York Post
Advertisement
Zoë, from West Haven, Connecticut, USA, explained that her father, Ralph Miolla, 52, first noticed her grey hair when she was just nine years old. Prematurely grey hair seems to have run in the family: "And I always thought they had beautiful, healthy hair," Zoë said.
Zoë said she has always been proud of her hair, but in her teenage years, she wanted to hide it: "It was big source of insecurity for me in middle school. The grey was concentrated to the upper part of my hair. My classmates called me "grandmother". Grey hair was very rare to see at that time. I wasn't like everyone else: I was a big, chubby girl with greying hair - not a good thing for a teen girl."
With the help of her mother, Zoë started dyeing her hair. At around the age 19, when Zoë began attending Ringling College of Art and Design, she decided to go back to her natural hair color "out of curiosity."
Advertisement
"I was in art school and so any hair color was accepted there. When I was in college, I was already 50% grey. After six months, my bangs were completely grey. I even dyed my roots in fun colors for a while. At 21, my hair was shoulder length and I was able to cut it all off. I wasn't very used to having a full head of completely grey hair. It was a strange feeling," Zoë stated.
At 25, however, Zoë flaunts her natural look and feels confident: "Now my hair is 90% grey and I'm proud of it. It's my hallmark and I love it", she said. This is a great example of how sometimes a physical quirk can actually become a strength.
Advertisement