Woman breastfeeds her 5-year-old son: 'I'll continue until he wants to stop'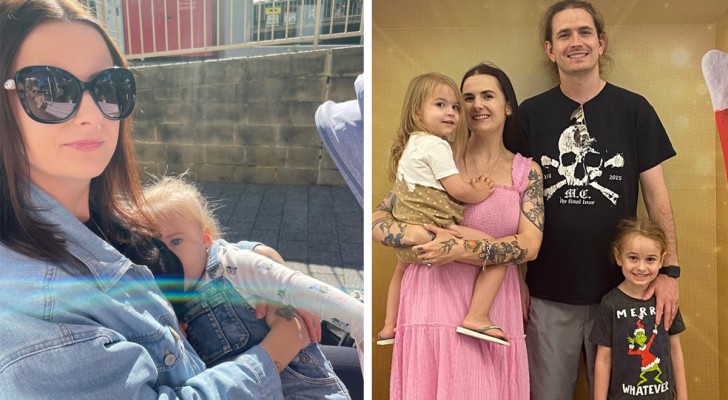 Advertisement
When is the right time to stop breastfeeding your child? It is understood that mother's milk is an essential and nutritious food for a newborn; it also becomes a "natural comfort" for the child, usually up to about 2 years of age. In fact, this is more or less the recommended age to stop breastfeeding and get the child used to solid foods. There are parents, however, who think otherwise and who continue to breastfeed, even when their children reaches 5 years of age. This is the case of the mother in this story, who declared that she would continue to breastfeed her 5-year-old son as long as she and he felt like it.
via Instagram / the.lauren.mcleod
Advertisement
Lauren McLeod is a 29-year-old Australian mum who is adamant that she can continue to breastfeed her 5-year-old son. Lauren became a mother for the first time in 2017, when she gave birth to little Bowie. A few years later, she gave birth to her second child, Tigerlily, born in 2020. Both children were breastfed right from the start, and not just during the first two years of their lives. According to the World Health Organization (WHO), breastfeeding is one of the best ways to ensure a child's health and survival, and guidance recommends breastfeeding exclusively within the first 6 months and the practice is stopped within 2 years. Lauren, however, is not convinced and she states the following:
"It's not weird...it's completely normal, and I'll keep breastfeeding them until they want to stop." Additionally, she added that she gives her children solid food.
Advertisement
"Many of the negative opinions people have about breastfeeding are based on cultural bias and a lack of education on the subject, which is part of the reason I am sharing my story," Lauren said. She continued: "Helping people understand that breastfeeding is natural, is my mission."
Lauren is so convinced of the "power" of breast milk that she even breastfed a close friend's 8-month-old son: "It was a little weird at first feeding a baby that wasn't mine, but not in a bad way. Later, it felt natural and it was really nice to help my friend as her baby was only 8 months old," said Lauren.
A controversial topic, but what do you think? What is the right age to stop breastfeeding a baby? Give us your opinion in the comments!
Advertisement