The boiler breaks down the day their child is born: the repairs are done immediately and for free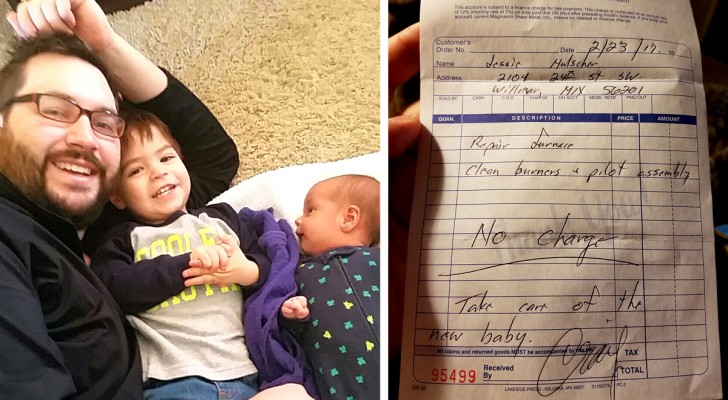 Advertisement
Becoming a mother and/or father is an indescribable feeling and only those who have been lucky enough to experience this really know what it means. Yet, when the little ones are born, one's life undergoes some major adjustments. And, in fact, it's often challenging to provide for children and to always be prepared for the unexpected.
The subject of this story knows something about this but managed to overcome a serious problem due to the intervention of some special people. Read on to find out more:
Advertisement
Jesse and Maria Hulscher of Willmar, Minneapolis, are a father and mother who faced an unexpected problem when their second child was being born. While Maria was still at the hospital, Jesse was at home with their other child and eagerly awaiting the new arrival.
The morning that dad Jesse had to go to the hospital to bring his wife and new baby home, he woke up and found that there was a major problem in the house. The boiler was broken, it was very cold outside and a blizzard was forecast. Jesse was very concerned: how could he take care of two children and keep them warm?
Jesse quickly contacted an assistance center explaining the situation and asking for an immediate intervention. We are all well aware, however, that getting a repair done immediately is rarely possible - sometimes you have to wait days for help. Not in this case, however.
Advertisement
The repair company told Jesse not to worry and a few minutes later they turned up and made the repair. Jesse was relieved but also expected to receive hefty bill in the post from the repair company. Indeed, a few days later, Jesse did get a bill - and wonderful surprise.
Jesse said: "When I looked at the bill, I was stunned. Not only did it say that all the repairs had been done for free, but there was also a message telling me to take care of my baby. I couldn't believe that they had been so nice to a complete stranger".
The company that had carried out the repair had learned about the new-born and decided to give this family a wonderful gift.
This is truly a wonderful way to welcome a child into the world and wish them a life full of love and "warmth". What do you think of this kind and touching gesture?
Advertisement