Young woman graduates and immediately finds her dream job: now she earns $4,600 a month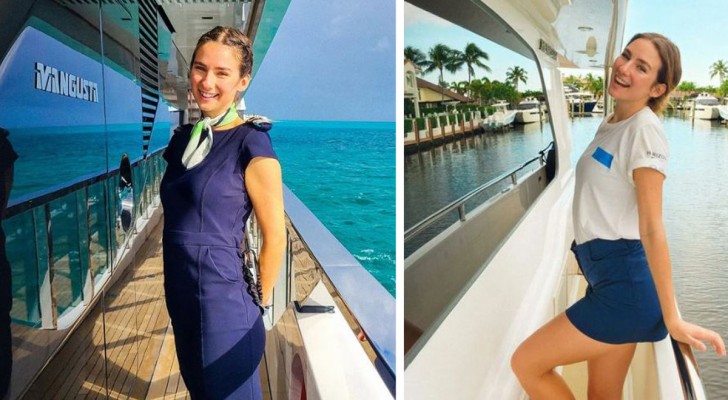 Advertisement
Many young people choose to complete their studies by graduating from the faculty that they find most suitable for their futures, but sometimes they embark on careers that are completely different to their course of study. It went something like this for Emery Wallerich, a 24-year-old young woman who—immediately after graduating in digital communications—managed to land her dream job: becoming a Florida-based yacht stewardess. Today she manages to earn around $4,600 dollars a month working for wealthy clients, while she travels around the world to dream locations with them.
via NYPost
Advertisement
Emery said she heard about the job of yacht stewardess during her last year of university: room and board and a decent salary that would allow her to save for the future by traveling the world. A dream for every 22 year old young woman! So, as soon as she got her degree, she sent her application. She currently works for a family on their 42-foot tri-level yacht based in South Florida.
But what are her duties? "I make the beds, serve meals and drinks, bring sunscreen and towels, clean the showers, vacuum, organize karaoke nights – I just make sure the family and their guests have an orderly yacht. I also work night shifts ", she explained. Emery has recently been cruising around the Caribbean and later in the year will be heading to the Mediterranean. "I am the second stewardess on board. I work with the head stewardess and the third stewardess. Together with the chef, we train the staff who take care of the the yacht," continued Emery.
Advertisement
Emery's salary may be tempting for many, but it's nothing compared to other jobs: a chief stewardess earns $100,000 dollars a year and captains can earn $360,000 dollars a year. The young woman decided to document her career experiences on social media networks such as Instagram and TikTok: it is not surprising that they were an immediately successful.
"Let's just say it's a way to put my digital communications degree to good use and prove that life on a yacht isn't a drag. Does it sound like a dream job? Well it is. Next stop: the British Virgin Islands," Emery said. And how could she not be thrilled with her life?
Advertisement