Single father adopts 5 siblings in order not to divide them up: "I have dedicated my whole life to helping less fortunate children"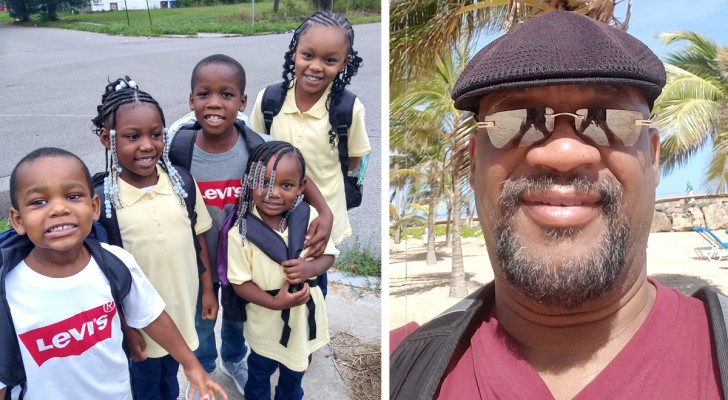 Advertisement
Becoming parents is not only a biological matter. There are those who foster and/or adopt in order to give a child a second chance at life. Deciding to take such a step, however, is not for everyone: choosing to adopt is an act of great generosity, altruism and courage.
The subject of this story knows this very well. He is someone who has taken care of over 30 children in the past 20 years. Here is his story:
via On the Road with Steve Hartman /Facebook
Advertisement
Lamont Thomas is an American father who became famous for his fostering and adoption history. It all began in 2000 and he hasn't stopped since. Having learned of how difficult some kids have it, he decided to provide children in shelters with a foster home.
This then became a mission for Lamont. To date, he has fostered about 30 children, in addition to being a father to his two biological kids, Anthony and LaMonica. Single for some time, Lamont dedicated himself to fostering unfortunate children. The first children he fostered were twins; the last were 5 siblings.
Aged between 5 years and 12 months, these 5 little ones formed a special bond with Lamont, so he went one step beyond fostering with them.
Zendaya, Jamel, Nakia, Major and Michaela had lived in 4 different homes over the course of 18 months before they were all fostered by Lamont. Not wanting them to be broken up again, Lamont applied to adopt the 5 kids and give them a stable home.
Advertisement
"I had to help them. They deserved to grow up together," Lamont stated. But adoption procedures are long and complex. Over the years, Lamont has officially become the father of 12 kids: 10 he has adopted (including the aforementioned 5 siblings), and his two biological children.
Ideally, there should be more people in the world with big hearts like Lamont. It is men and women like Lamont who restore our faith in humanity.