Woman makes a fake phone call in which she says all of her dog's favorite words (+VIDEO)
Advertisement
Anyone who has a pet at home will surely know what it feels like having to deal with some of the bizarre behaviors their "furry babies" display. Each animal has its own preferences in terms of food, games, activities share with its master and... even certain words have meaning for them! That's right: even dogs have their "favorite words"! The woman, who is the subject of this story, knows very well the words that her dog likes - words that can even wake him up from a deep sleep. The video the woman posted is hilarious and proves that our animal friends understand much more than we might believe.
via Facebook / Ti regalo un sorriso
Advertisement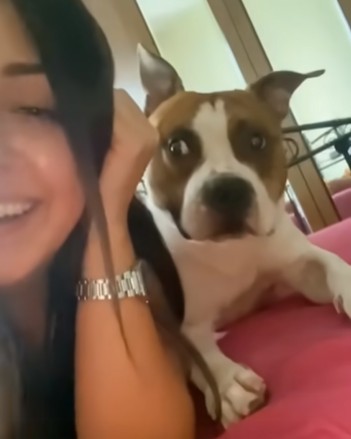 Facebook / Ti regalo un sorriso
The young woman entertained thousands of users by making a "fake phone call" within earshot of her dog. The game was very simple: during this fake conversation, she inserted the dog's favorite words. The conversation, of course, doesn't follow any syntax logic and that's also why it's funny. The dog's favorite words are uttered when we least expect them and, evidently, also when the dog least expects them too.
"The ball?" says his mistress, aware she has attracted the dog's attention. The latter's reaction is hilarious: as soon as he hears the word "ball" he looks carefully at his mistress's cell phone, with his ears pricked up. It really seems that he is thinking: "Ball? Did you say ball?"
The dog gives the same kind of reaction when hearing the words "lizards", "spiders" and "flies"; on this last word ("flies"), the dog can be seen turning his muzzle up into the air, looking for these flying pests. The girl can't help but laugh out loud every time her dog reacts in this way. And when she says the word "biscuit", her dog nearly does backflips!
What we say? We hope that after this hilarious video, the dog got some biscuits as a treat!