"I fell pregnant again while I was already three weeks pregnant - it's a real miracle!"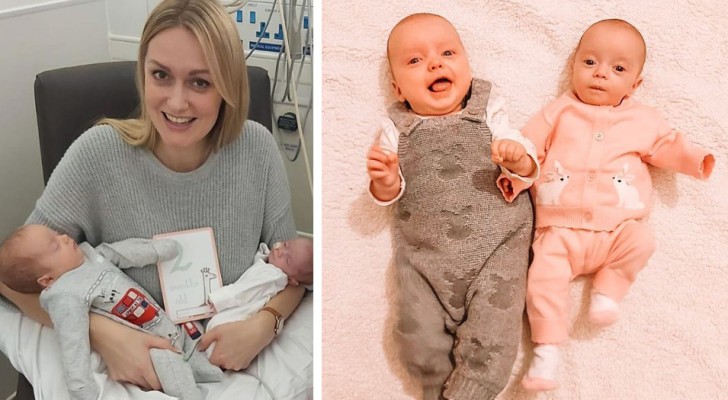 Advertisement
The arrival of a child is a dream for many aspiring parents, but often it is not such an easy dream to achieve: some couples, in fact, have to resort to medical treatment in order to conceive. For some, however, medical interventions of this kind can lead to stunning surprises.
An example of this is Rebecca Roberts and her partner, Rhys Weaver, who tried for several years to have a child, but without success. After some time, however, the couple were thrilled to learn that Rebecca was expecting a baby boy after undergoing fertility treatment.
Advertisement
When Rebecca had her third ultrasound at 12 weeks of pregnancy, she said she was stunned when doctors discovered she had two babies in her womb (the second being a girl). "It was really crazy knowing I was expecting two babies instead of one," said Rebecca, 39, from Wiltshire, England. "Then they told me there was a three-week difference in the sizes between the two babies and the doctors couldn't figure it out. They later explained to me that my daughter was conceived 21 days after her baby brother," Rebecca explained.
Doctors had a hard time figuring out what was going on because this is a very rare event. Rebecca's pregnancy was diagnosed as a superfetation: a phenomenon where a second, new pregnancy occurs during an existing pregnancy.
Advertisement
At the end of the day, twins Noah and Rosalie were born on the same day even though they were conceived at different times. "They are my super-twins. Every day I look at them and think about how lucky I am," said Rebecca.
"I've wanted another child for so many years, but I've been waiting for the right man to come along. Then I met Rhys and we fell in love. We wanted a baby and we've been trying for years to have one, but I just couldn't fall pregnant. And in the end, we have been blessed with two children. It was well worth the wait," Rebecca said.
We wish this family all the best for the future.
Advertisement