Single mother cannot afford to buy a car: a humanitarian association surprises her by buying her one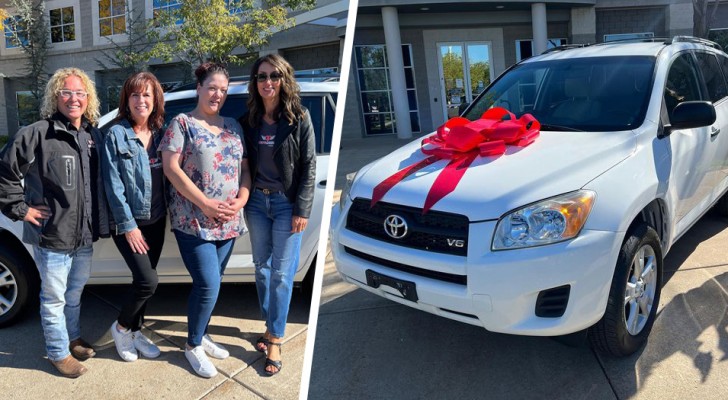 Advertisement
Life often confronts us with tough challenges and these make us realize the importance of having simple things like a car to get from one place to another. Nina Archuleta, a single mother of two living in Utah, United States, knows this very well. Nina had a full-time job and every day, she had to catch public transport or ask her colleagues for a lift in order to get work. Luckily for her, however, someone noticed Nina's struggles and decided to try to make her life a little easier.
via Fox
Advertisement
Nina was in for a surprise when she went to a finance agency to discuss her intention to buy a car. She had applied nine months earlier, so a review meeting didn't seem that unusual. What she didn't know, however, was that God's Garage - a non-profit organization - had already bought a car for her. The organization donates cars and auto mechanic services to single moms who need help and support.
God's Garage representative, Jodi Klingensmith, said the nonprofit started 20 years earlier in Houston, Texas. However, it has been present in Utah for four years. According to Pastor Jimi Pitts, who heads the area's branch, about 30 to 40 vehicles are given away each year: "It's one of the most wonderful things to see and I've been doing this for three years," he stated. "This gesture makes a huge difference in our receipients' lives and gives them a reason to keep going."
Nina, who has a 21-year-old son and a nine-month-old daughter, said getting to work was always difficult for her. "I've been without a car for a few years and, as a result, everything is more complicated. With this gift, my life will take a different path: I will be able to go shopping with my daughter and get to work by myself instead of having to ask people for lifts. It's a god-send for me," she said with joyful tears in her eyes. When she was asked what she will do first, Nina responded: "Go for a ride with my little daughter."
"Everyone should have the opportunity to get ahead and everyone deserves someone to believe in them," Pastor Jimmi said. "Since Nina has never given up and is working hard to raise her children, it's even more exciting for us to be able to give her with a vehicle that can help her in her life," he added.
This was a wonderful gesture of altruism that moved the entire web and one that this mom will never forget.