Her father forbade her becoming a musician: 80 years later, she recorded her songs and won an important award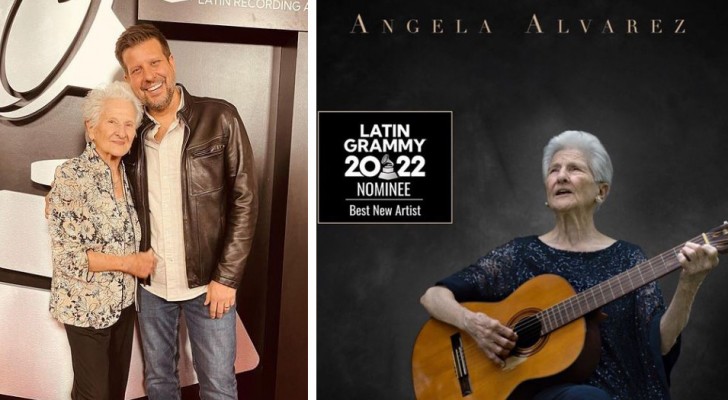 Advertisement
Nowadays, most parents tend to encourage their children to pursue their dreams from the get-go. Over time, however, these dreams can fade when reality and the vagaries of life set in. But is this always the case? Apparently not, and this is what this story is all about.
A splendid example of not giving up on a dream is Angela Alvarez, a 95-year-old woman who had to put her ambitions of becoming a musician on hold for 80 years. Then, her grandson helped her win a very important award.
via Today
Advertisement
Angela Alvarez has loved music all her life, learning to play the guitar and piano as a young girl in her homeland Cuba and writing songs from the age of 14. However, Angela didn't pursue her dream of becoming a professional singer and songwriter, because her father forbade it. Later, Angela married and started a family, and then settled in Baton Rouge, Louisiana, United States. Over the years, she continued to take care of her children and then, when the time came, her grandchildren. Amongst these grandchildren, was Carlos José Alvarez, who went on to become a music composer.
"My grandmother has sung to us since we were kids. Whenever she had the chance to pick up a guitar, she sang to us," recalled Carlos, 42. "One day I called her and said:" Sing me the songs you composed". She came out of a room with some notebooks that contained more than 40 of her songs," Carlos said. The young man was so fascinated by that music that he decided to make a record with his grandmother. He invited her to Los Angeles, where he lives, and began the process of recording and producing Angela's debut album.
After finishing the project, Carlos and the musicians he worked with decided that Angela's story should be made into a documentary. They contacted actor Andy Garcia, who agreed to participate in the project. "When I heard her music, I was moved by her story," commented Garcia, who has decided to produce and narrate the documentary "Miss Angela" (which was released in 2021).
Angela's record was nominated for a Latin Grammy for best new artist, winning the award at the ceremony in Las Vegas. Getting the award was a dream come true for Angela. In her acceptance speech, Angela thanked her daughter and grandson: "My grandson was the one who helped me get to where I am now. I want to dedicate this award to my family, to God and to my homeland, Cuba, which I will never forget," she said.
This story teaches us that it's never too late and to never to give up on our dreams - thank you, Angela.