52-year-old street vendor realizes his secret dream: getting a university degree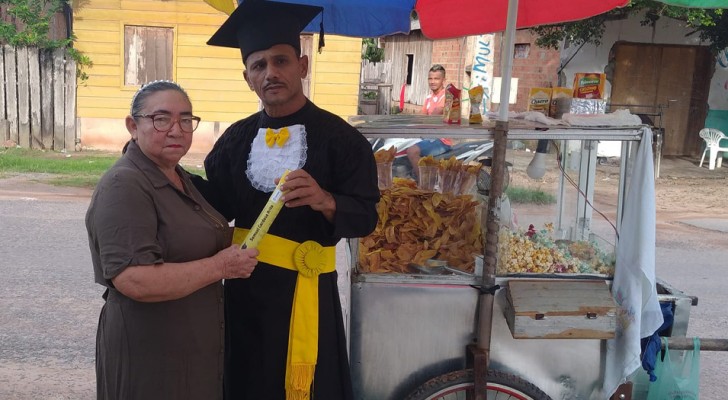 Advertisement
Getting a higher education is the wish of many people, but not everyone manages to achieve this. In fact, many interrupt their studies for personal or family needs and set aside their dreams of obtaining a High School Diploma or Degree. But this is not always the case. A clear example is Mr. Samuel Cardoso Brito, 52, a street vendor from Parà, Brazil, who just recently managed to make his dream come true - he got a degree in literature. Now, Samuel has no intention of interrupting his studies.
via Facebook / Samuel Cardoso Brito
Advertisement
Long after having attended school, Samuel managed to graduate from the University of Uberaba. His studies had to take a back seat, because from an early age he had to work to help out his family financially. Additionally, he didn't want to study: "I wasn't good at it, so I didn't progress beyond the third grade," he explained.
"My grades were low at first," Samuel said. "I have to thank the patience of the people who helped me move forward and fulfill my dream of getting a higher education," he added. Although he believes he is not an academic, Samuel has always had a passion for reading: from the age of 15, while of working in the mine with his father, he continually read books and comics - a habit that didn't change over the years.
Samuel told the Brazilian media that he decided to go back to school at the age of 40 after applying for a job and failing to get it because he didn't have a bachelor's degree - despite meeting all the other requirements. Samuel owns a street food cart, an job which has managed to finance his studies. Samuel also decided to move to the countryside in search of a lower cost of living and to be able to enroll in more courses. It was shortly thereafter that he discovered a new passion: English. After working hard, Samuel got his bachelor's degree!
Through the Distance Education Network, his food cart business, and traveling long hours to sit for exams, Samuel finally earned his Bachelor of Literature degree. "I hope it's not the last degree I get, as I plan to enroll in a graduate course, and then get a master's and a doctorate," he stated.
This is a fine example of tenacity and determination: congratulations, Samuel!