Wife 'rents out' her husband for £40 pounds an hour to anyone who needs housework done - demand is booming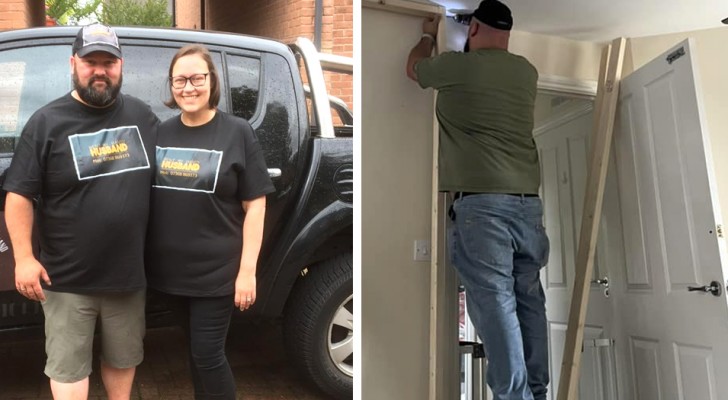 Advertisement
We know that there are always some chores to do at home. Whether it's fixing an electrical socket or putting up shelves, the truth is that not everyone is able to do these chores efficiently. Manual work has always been a male prerogative and, although this is no longer the case today, this woman had a brilliant idea of "exploiting" her husband's handyman skills. At a time when the husband was idle and without work, his wife launched this unusual business: "I hire my husband out to do odd jobs". The idea came to the man's wife, and started off as a bit of a joke. Neither of them imagined the business would take off like it did!
via Facebook / Rent my handy husband
Advertisement
Laura Young, 38, of Milton Keynes, came up with a bizarre but winning idea to make some money: she decided to "rent out" her husband for £40 pounds an hour - or £250 pounds for a full day's work. Her husband, James, has always been very good at doing handyman chores and Laura believed he could help others - for a fee. Initially, neither of them believed the idea would really work, but James was pleasantly surprised when his first job came in. To date, the couple is so overworked that they have had to limit their client list and reduce the hours they work.
Advertisement
James is very good at DIY and this includes painting, carpet laying and tiling. Laura decided to advertise these skills on Facebook and on Nextdoor (a social network created specifically for people from the same neighborhood looking for help). James does the work, while Laura manages the appointments and marketing. For the Christmas period, they decided to offer an additional service: installation of Christmas lights. They have so many work requests that James had to quit his old job and is now a full-time handyman, working Monday to Friday, 9am to 5pm. In the meantime, Laura had to reinvent herself as a stay-at-home mom, taking care of their 3 children (two of which suffer from autism).
James was also diagnosed with autism 4 years before starting the business and probably inherited from his grandfather, who also had autism. Laura confirmed that her husband can concentrate very well on projects that require construction skills: "He's really good at building things and he never needs to consult the instructions." She added: "He has a very methodical mind and can think outside the box. He sees things differently to other people."
The couple gets job requests from all over the country: "We've also had inquiries from as far away as Manchester. We told these clients it might be more practical for them to find someone closer - due to the extra costs - but we take the work when we can!"
Additionally, the couple also offers discounts to those who work in the National Health Service, seniors, the disabled, carers and people who live on social security: "We know what it means to be parents of children with special needs and we know what it means. To battle to save money". A commendable initiative, don't you agree?
Advertisement