Autistic child refuses to eat her "broken" hamburger: the waitress responds in a surprising way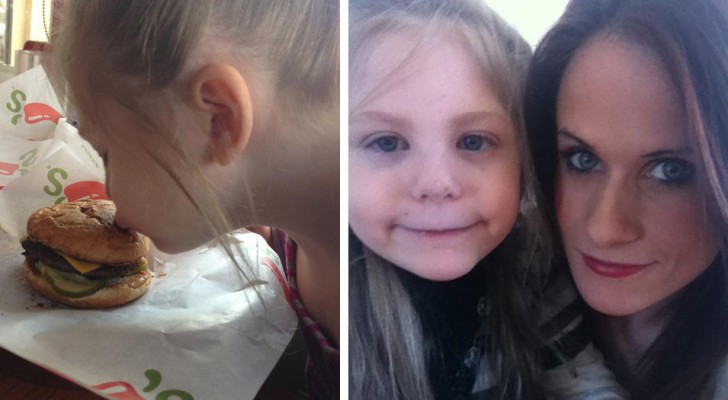 A simple act of kindness can really change the day of a person: small things can be very important for some people. Little Arianna Hill, a 7-year-old autistic girl who loves cheeseburgers, knows this very well.
On a day like any other, Arianna was having lunch outside her with her older sister, Anna, 25, who said that the little girl loves to go to restaurants. On this day, Arianna ordered a cheeseburger, but things did not go quite the way she hoped for when the burger arrived.
via ABC News
Advertisement
"When Arianne's burger was served, I noticed my sister didn't touch it - she just ate the fries. Her verbal skills aren't the best, but she can communicate basic things," Anna said. "I asked her why she didn't eat her burger and she replied:" I don't want that. It's broken, I want a whole one." I love spending time with my little sister, and I'm always ready to deal with her special needs," explained Anna. "Our waitress came back and I asked her to put a new cheeseburger on our bill. The waitress said: The little girl is right: the hamburger is broken, it needs to be replaced". She was very sweet and she happy accomodated Arianna", Anna continued.
During the preparation of the burger, the manager, Bradley Cottermole, approached the sisters' table, knelt in front of Arianna and said: "I heard we gave you a broken cheeseburger! I'm very sorry! I'm making a brand new, unbroken one with pickles for you! I'll bring you some fries to munch on while you wait, ok? "
"This was really kind. Even the cooks got involved," said Anna. "When the new burger arrived, Arianna said," Oh, thank you! You brought me a whole cheeseburger." Arianne, looked at the new burger and said" Oh, I was waiting for you," and kissed it over and over." Amused, Anna took a picture of the scene and decided to share it.
"This experience moved me - especially since I know of people who have been asked to leave restaurants when their autistic children act out. I didn't expect such kind and compassionate behavior from Lauren (the waitress) and Bradley (the manager). Everyone played a part in making Arianne happy that day," commented Anna.
A simple, kind gesture that changed not only the little girl's day for the better, but also that of the entire staff of the restaurant. It's really true: sometimes it takes very little to make someone happy, and this story proves it.