Mother is stranded with a flat tire: a famous football player stops to help her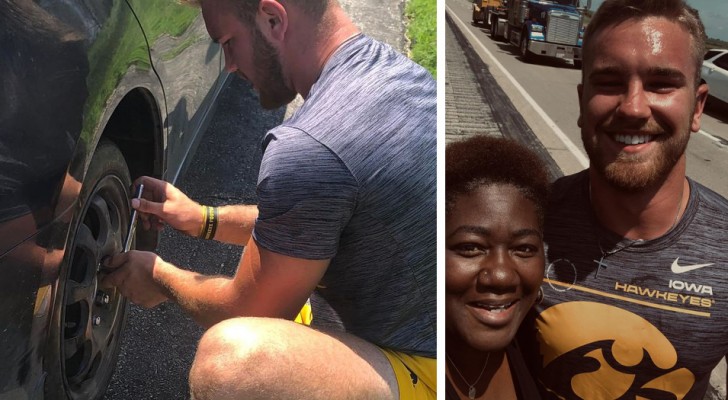 Advertisement
In a perfect world, it shouldn't matter if you are famous or hold an important social position: if you come across someone in difficulty, you have a moral obligation to intervene. So, when Zach Twedt, a young, professional football player on the Iowa Hawkeyes football team saw Ms. Tina Gunn and her three children stranded in their car with a flat tire on the side of Interstate 35, he didn't hesitate to stop and help them.
via Keyc
Advertisement
Ms. Gunn and her family were driving home to Nebraska on the weekend when they got a flat tire. The family was more than two hours away from their home.
At the same time, Zach was on his way to Iowa City, when he saw the family's car pulled up in the emergency lane: he pulled over to help the family out, and without worrying about doing so on the busy, dangerous interstate. "He changed the tire in 10 minutes, put the tools away and reached out to shake my hand. But I had already opened my arms because I wanted to hug him," Ms. Gunn said. Zach obliged and said: "Oh, I love hugs too."
Advertisement
The young man stated he had helped change the tires on a number of the cars in the past. He doesn't do this for money or gifts, and he certainly doesn't do it for recognition: "It's just the right thing to do," he commented.
"I'm a complete stranger and he was on his way to football training - but he felt the need to help me and help my kids," explained Ms. Gunn. "He's got a really big heart."
Ms. Gunn said she posted the story on social media because she wanted others to find out about Zach's kindness. She didn't know at the time that she would get so much attention.
"I wanted to go public with my experience on Facebook because I felt it was necessary," she said. "At this time in our country, and all over the world, many things are happening and many of these things are bad. It was nice to see that there is still someone able to show some kindness."
Advertisement