Woman sheds unwanted weight thanks to surgery and exercising: "I'm wearing a bikini for the first time in my life"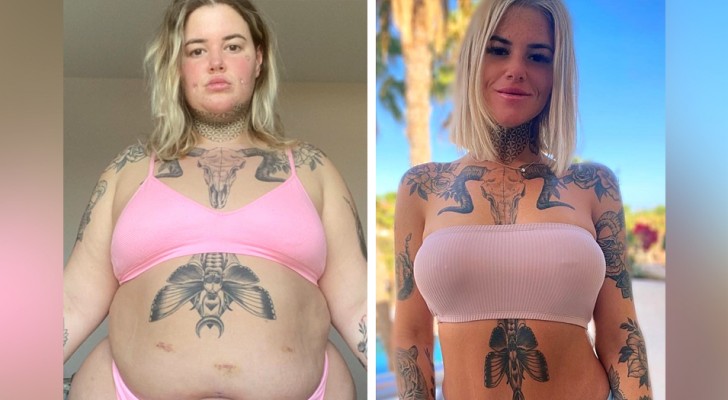 Advertisement
These days, no one should feel uncomfortable with their body. Notwithstanding this, an antiquated mindset about women and aesthetics still persists. Excluding any kind of health issue, everyone should be free to have the figure they want and not being judged for it. Unfortunately, this is not the case, and this is the reason why so many women resort to cosmetic surgery. That said, it is advisable to lose weight when you are medically overweight, for health reasons. When health and aesthetics merge, you are ready for change. At least, it was for Scarlet, the young subject of this story.
via Dailymail
Advertisement
Scarlet, like many other overweight people, was bullied at school and she found emotional refuge in food. A vicious circle, that led her to become obese and to isolate herself from the outside world. Luckily, Scarlet recognized her addiction to food and the malaise she was drowning in. So, one day, she decided that she would do something to change her life. The young woman saved enough money to have surgery to lose her excess pounds. It is often said that money does not bring happiness, but Scarlet needed several thousand dollars to get her surguries.
Obviously, surgery can't work miracles, and Scarlet started exercising and spending more time on herself. Another essential step she took was to follow a healthy and balanced diet. Before starting her journey, the 25-year-old weighed almost 160 kg, but after the first surgery, she managed to drop down to 82 kg. The young woman wore a bikini for the first time and began to be more confident: her life began to turn in the right direction.
Advertisement
Today, Scarlet is very popular on social media, even by those who once teased her. Of course, she ignores these obnoxious bullies from the past. The young Scarlet is certainly a great example for all those who are going through a difficult time and who admit a strong addiction to food: you can turn your life around, and Scarlet can confirm this! Follow her on Instagram to learn more about her story.