Bride chooses a chicken as a bridesmaid: she couldn't find the right person for this role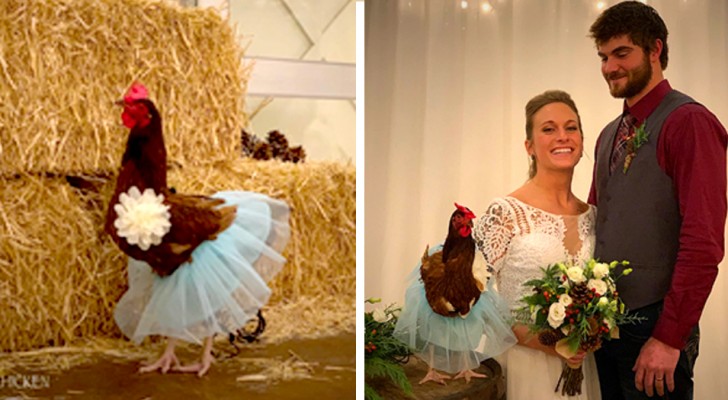 Advertisement
Deciding to get married is one of the most exciting things that can happen in the life of couples. There are men and women who do everything possible to make their wedding day special. One of the most difficult choices to make during the planning is, without a shadow of a doubt, the decision about who will be the witnesses and bridesmaids. But what if the bride and groom cannot find the right people to fill these roles - what can be done then?
The couple who are the subjects of this story found the ideal solution that shocked their guests and made for some interesting photos. Here is the story:
via Viralistas
Advertisement
Haley and Ty are two newlyweds who are now famous on the web due to their choice of bridesmaid. Having no special friends to ask, the bride decided, along with her partner, to assign the role to Sammi. You may be surprised, however, to find out that Sammi is a chicken. Yes, you read that correctly.
The couple decided to appoint Sammi Chicken (his full name) as a bridesmaid. Sammi is a famous domesticatec chicken who, already well-known on the web, has attracted even more now.
Usually, bridesmaids are beautiful girls who accompany the bride and stand beside her during the wedding ceremony - and Sammi was no exception. Dressed in a wonderful blue tutu, with a flashy white flower on the chest, the chicken is shown completely at ease in the wedding photos.
Whether with the bride and groom, Sammi appears very calm in front of the camera and his outfit is impeccable. Who, after all, wouldn't want a chicken as a bridesmaid? Of course, this is not a choice that is often made, but we cannot deny that it is unique and it will not be easily forgotten by those who attended the ceremony.
Advertisement
Did you do something unusual for your wedding, or would you like to do so?