Granny celebrates her 84th birthday at her favorite restaurant: she is moved when the waiters wish her happy birthday
Advertisement
Too often, older people are sidelined or relegated to a retirement home, without the ability to interact with the people they love. The loneliness of the elderly should be alleviated, especially when there are special occasions such as birthdays or Christmas parties. Although many are alone all year round, it is on these occasions that loneliness is amplified for the elderly. And it doesn't take much to make an elderly woman like Mrs. Rosie happy.
Advertisement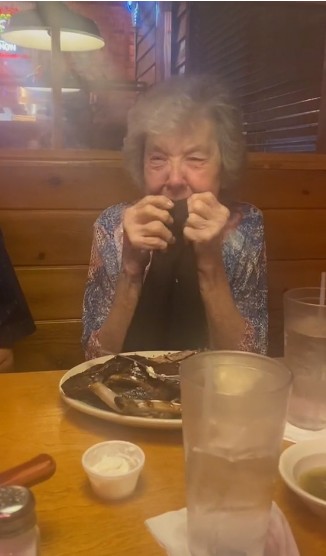 This granny starred in a video that was taken at her favorite restaurant, a Texas steakhouse, to celebrate her birthday. The woman's granddaughter filmed the tender scene during her beloved grandmother's birthday lunch. The elderly woman didn't expect anyone other than her granddaughter to wish her a happy birthday, but the waiters gave her a surprise. During the meal, a waitress can be heard clearly announcing Rosie's 84th birthday, inviting all the other waiters and those present in the venue to congratulate her. While Rosie still doesn't seem to have realized what was going on initially, all those present shout "happy birthday" in unison. At this point, Rosie couldn't hold back and cried with joy and gratitude.
Advertisement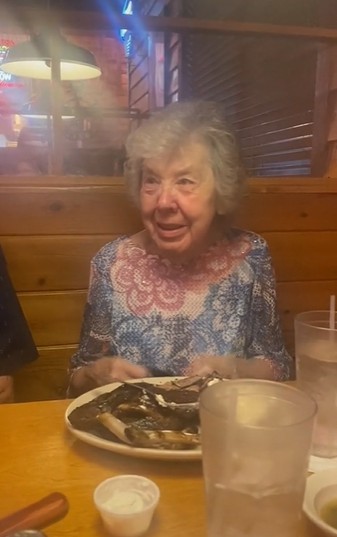 Often, it takes very little to make someone happy and this sweet scene certainly proves this. The video, published on TikTok, reached more than one million views and we are certainly not surprised by this. It's really good for the heart to see a sweet granny being wished a happy birthday by an ethusiastic crowd. Rosie couldn't have wished for a better birthday that this: in her favorite restaurant, with her granddaughter and the warmth of the staff she has got to know over the years.
Advertisement