Son blindfolds his parents and takes them to their dream house: it is his gift to thank them for all their sacrifices
Advertisement
A loving parent knows what it means to sacrifice oneself for their children, hoping to being able to give them the best in life. The more desperate the economic conditions are, the more difficult it will be to do this, but we all know that a mother and a father will never let their problems fall on their children. Lejuan James is well aware of this. His parents have always worked hard to give him and his brothers a dignified life, despite the challenge of having to hold down two jobs and live in a foreign country as immigrants. After many years, however, a well-deserved reward arrived for these parents and it was their son Lejuan, who gave them the best of gifts: a new house.
Advertisement
The web was moved to see young Lejuan James give his parents the house of their dreams, and we perfectly understand why. Lejuan is today a successful young man, and his videos has been viewed by two million followers on Instagram. Lejuan has never fogotten everything his mother and father have done for him and for his brothers. When you are a child, you cannot really appreciate this, but once you enter adulthood, you begin to understand the real value of money and how difficult it is to earn (and is so easy to spend). Despite being an immigrant family in the United States, Lejuan's parents never let their children lack for anything - including their education.
Lejuan wanted to express his gratitude to the two people who have always supported him. He decided to prepare a huge surprise for them: he blindfolded them and led them to the wonderful gift. Once they reached their destination, the young man told them to take off their blindfolds and, as you can imagine, their show of emotion was evident. They both burst into tears of joy, and Lejuan himself also couldn't hold back his tears.
Advertisement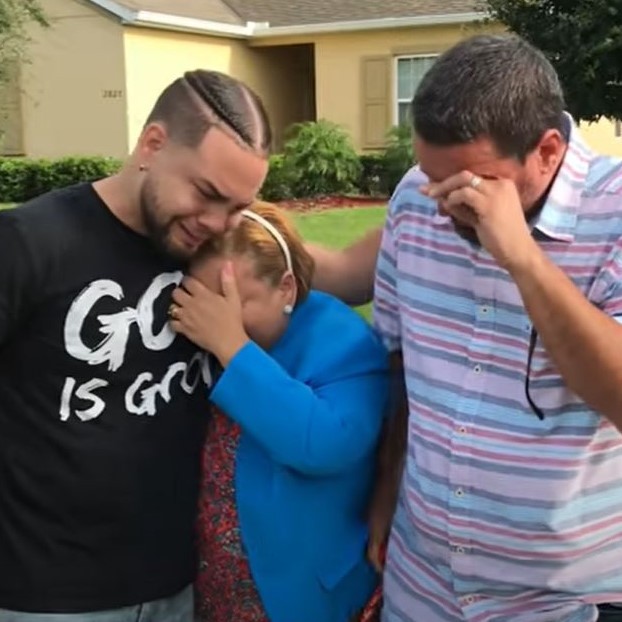 The three embraced and cried together with joy, aware that their lives had finally been changed forever for the better. The video was very popular on the web, and we imagine it's because many people would like to be able to reward their parents like this. "You made me cry," wrote one user, "this is the best gift a child can give his parents. You have shown your true love and appreciation for your parents. And, by the way, you look like your father."
Congratulations to this young man and special wishes to his family!