Young man goes to his prom in a sequined jacket and dress: "Be what you want to be"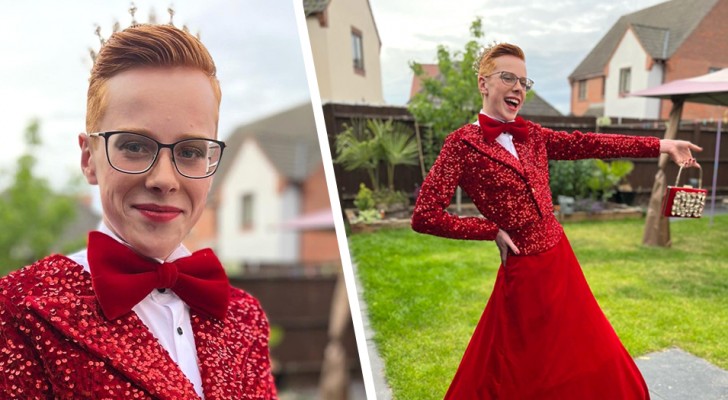 Advertisement
Achieving your dreams and finally feeling at peace with yourself - as well as being accepted by your parents and friends - is probably one of the most beautiful feelings in the world. Everyone deserves to feel loved in this way, don't you think? Korben, a 16-year-old boy, had this good luck, and his mother proudly shared photos of his incredible joy. The young man, who at the age of 12, had expressed his wish to go to his future prom wearing a dress, to show off his feminine side. Two years later, his wish finally came true.
Advertisement
Photos of him sporting a red prom dress / gown have gone viral and now people recognize him on the street: "You're the guy in the red dress, aren't you? You're awesome!". Korben just wanted to be himself and his mother supported him 100%. When he was just 12 years old, Korben asked his mother if he could wear a long evening dress to his prom. The young man showed up at this important school event wearing a red tuxedo jacket covered completely in sequins and a long skirt in the same style. Nina Green, Korben's mother, shared the excitement of seeing her son being true to his inner nature and to himself: "I am so incredibly proud of him for being true to himself and for the welcoming acceptance he has received from all of his schoolmates ... it was incredible. "
The message is clear: be what you want to be. This is a powerful message that was endorsed with great enthusiasm by all of Korben's schoolmates and later, by the entire web community. "As soon as he got out of the car, everyone started cheering and I was crying" said the emotional mother, "some of the teachers were crying, because Korban had achieved his dream - it was what he wanted to be. Everyone was very supportive and his schoolmates were incredibly kind to him. If you let your child be who he really is, you will get the best from him," concluded Korban's mother happily.
What really makes a difference in everyone's life is that we feel accepted: "There are people in the world who still don't understand this, but a feeling of acceptance is incredible and you can't beat it. I'm so happy for him," Korban's mother later said. She also added that another parent had even texted her asking for advice on how to deal with her son who had recently declared himself to be gay. Sharing this story is meant to be a way to communicate to other parents the importance of accepting their children for who they really are. She continued: "I really hope this helps others to be more accepting, and that they will make the parents feel proud of them and that they are not alone. They can celebrate their children's diversity. You have to accept your children for who they really are."
We are really happy for this young man and we hope that the whole world realizes the evil of gender prejudice.