Bride knows that her parents will not attend her wedding: when she sees them, she falls to her knees and bursts into tears (+ VIDEO)
Anyone who is about to be married knows how difficult it is to organize everything for the day perfectly. There are many choices to make and, in order for there to be no hitches, it is necessary to keep track of every small detail. But what are the really important things to consider one of the best days in a couple's lives? We are all very different from each other, so everyone will have their own personal and different answer to this question, but, if you get along well with your family, it's always nice to know that they will be there next to us and supporting us through the celebration. And this is especially true for the parents. Our parents brought us into the world, raised us and, on this special day, we need them with us for support.
In the case of the subject of this story, all of this was about to be brought into question. The parents of the bride, due to a bureaucratic problem, had told her that they would not be present at her wedding - but then something changed. Let's see what happened together: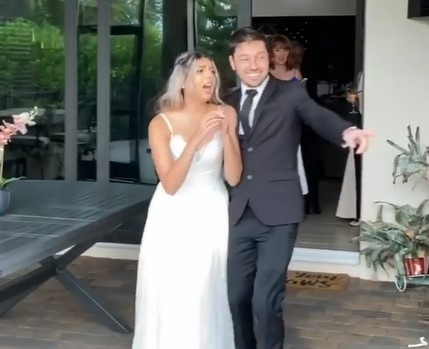 Aline Nas is a young woman who ran the risk of not having her parents with her on her wedding day. Her parents, would have had to travel from Brazil to Florida to attend the event. Florida is where their daughter had moved to and she was about to start her new family life by getting married. In order to make this trip, the woman's parents had requested a visa which, unfortunately, would not have been issued in time to make their travel to the US possible in time.
So, this is why they were forced to tell their daughter that they would not be able to attend and walk her down the aisle. The event would have to happen without them being there. With her heart filled with sadness, Aline couldn't help but accept this sad turn of events and move on with her wedding day plans. But fate (and luck), at times, holds wonderful surprises for us, and this stroke of luck happened to the young bride, seemingly in the nick of time.
Ryan Tickle, the young woman's fiancé and future husband, had taken part in a little "deception" against his bride-to-be. In reality, everything had been arranged properly and a wonderful surprise was ready to be sprung on the young bride.
Ryan, in contact with his future in-laws, discovered that, despite some difficulties, the two had managed to get their visas in time to get to Florida in time. Since her future husband knew his bride really wanted her parents with her on the special day, he kept quite about this good news and decided to suprise his future wife.
And both he and his future in-laws succeeded in keeping the young bride in the dark. The two got to the hotel where the future spouses were staying and were only a stone's throw from their daughter's room - and all without her discovering this fact. Shortly before the wedding, they also spoke to her on the phone and carried on the charade, waiting for the grand reveal.
Shortly afterwards, when the young couple left the hotel to get married, her parents were waiting for them at the entrance to the church. On seeing them, Aline fell to her knees, she burst into tears and then ran over to hug them. She was compeltely stunned, but overwhelmingly happy, and she started jumping for joy, just like a little girl. The images from a video shot in these moments and posted to her Instagram account show her overcome with emotion and embracing her mother and father.
Before watching the video, get some tissues... you will need them!