2-year-old son accidentally orders 31 McDonald's burgers from his mother's cell phone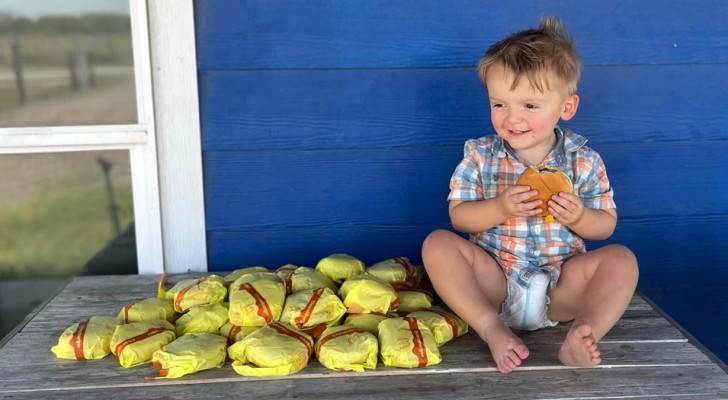 Advertisement
Today's parents know well that by giving a mobile phone to their young child can calm them down in a few moments. It is a babysitting shortcut that is certainly not the best and most instructive for the child, but when a mum and dad are exhausted, it is usually a safe bet. Children play with cell phones in a harmless manner, taking pictures or having fun playing with some of the applications, but they must always be monitored. Kelsey Burkhalter Golden had been distracted for too long, one might say, while her 2-year-old son, Barrett, played with her smartphone. Her distraction cost her an unexpected order of 31 McDonald's hamburgers.
Advertisement
Kelsey Burkhalter Golden didn't expect someone to knock on her door to deliver 31 McDonald's cheeseburgers, as she hadn't placed any orders. In greeting the delivery person, she was still wondering what was going on, until her eyes came to rest upon her son, Barrett: it was he, who through an application installed on the phone, placed, what we might call, an excessive order with the fast food giant. Kelsey was convinced that Barrett was just taking a few pictures here and there, with her cell phone - a harmless activity that was giving him some fun. She hadn't anticipated that he could order 31 burgers from her favorite fast food restaurant.
After the order had gone through and had been delivered, Kelsey counted the number of cheeseburgers and checked the receipt: the total cost of the burgers was over $ 90 dollars - which also included a $ 16 dollar tip that little Barrett had generously added to the bill.
Of course, little Barrett could never have eaten all those burgers, so Kelsey decided to post her bizarre experience on a local Facebook group, stating that she would give the food to anyone who wanted it. Barrett eventually only managed to eat half of one hamburger. Kelsey was very impressed with her son's ability to use the phone, but from now on, she will surely pay more attention when Barrett asks her for her smartphone to play with.
In any case, this mom was lucky enough: the little son's order did not exceed $ 100. Other mothers, on the other hand, cannot say they were so lucky.