Young man compliments an elderly woman and pays for her shopping: his selfless gesture is rewarded with a $ 500 tip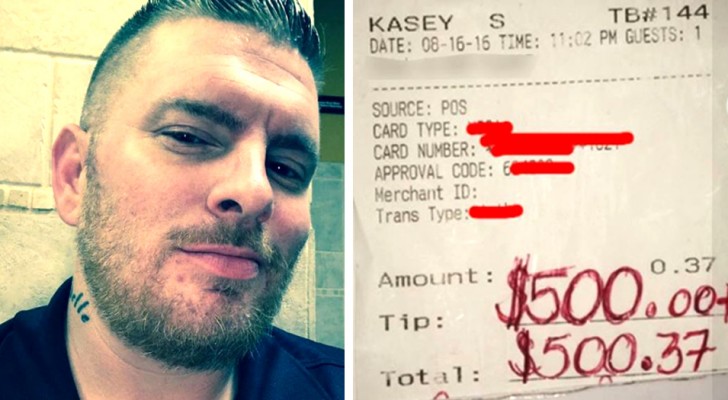 Advertisement
Sometimes we take too much for granted and fail to enjoy the smallest things in life. More and more often, in fact, people are locked in a sort of bubble that keeps them estranged and alienated from the rest of the world. Personal problems, work, health, everything "distracts" us and makes us turn away from our fellow human beings. There is no longer empathy with others - after all, you can hardly deal with the situations in which you find yourself daily, but you need to be careful not to make this lack of feeling become a habit. Why? For one simple reason: we risk missing the opportunity to do a good deed and help out someone in dire need.
Fortunately, there are always exceptions that prove the rule, as in the story we want to tell you about here. In this case, a young man did not turn away from giving help, and decided to reach out to a needy person completely unknown to him.
via CNN
Advertisement
On a normal day like any other, in Little Elm, Texas, Kasey Simmons was at the grocery store. The 32-year-old took the groceries he needed and went to the cashier. A very normal course of events, of course, until he met an old lady in queue for the checkout.
The woman was visibly sad and heartbroken and she needed a word of comfort. Kasey had never seen her before, but he realized something was wrong and, instead of continuing to run errands for himself, he walked over and asked her if everything was okay. After a few moments of conversation, the 32-year-old told her she was a beautiful woman. A very nice and empathetic thing to do to cheer up a sad person and put a smile on her face.
For the woman it was exactly like that. She couldn't help but smile, and she thanked the young man so much for having given some of his time to her. But Kasey's selflessness and kindness did not stop there, and he even paid for the lady's grocery shopping. Then everyone went their separate ways and the whole encounter seemed to be over.
The next day, however, the young man received a very nice surprise. As usual, he was in the restaurant where he worked and was carrying out his duties, when he found a message on a table addressed to him written on a napkin. Next to it there was also a bill with a significant tip ($500 dollars).
The note had been written by the old lady's daughter and read like this: "On one of the saddest days of the year for my mother, you made her happy. You insisted on paying for her groceries, you told her she was a beautiful woman and you put a smile on her face. I haven't seen her like that since my father passed away. Thank you! ".
Apparently, the old lady had come home smiling and in a buoyant mood and had told about all the details of the encounter with the young man to daughter. She, in turn, had done everything possible to track down the kindly man and had decided to leave him a tip as a thank you.
Kasey pointed out in an interview that paying $ 17 dollars was nothing for the lady's shopping. She had seen her so sad and he had decided to give her a boost. Basically, as he himself said: "Money doesn't matter, the important thing is to take care of others".
He did exactly this and gave us all a great example of an act of kindness. Well done!