"Children and companions are not permitted to attend the wedding": their requests raise quite a few eyebrows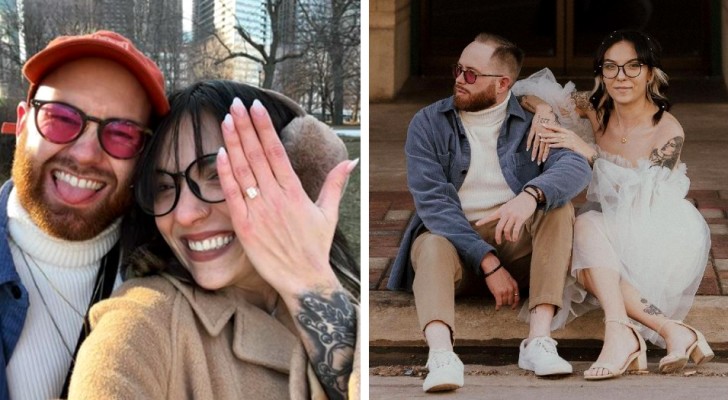 Advertisement
Organizing a wedding day is exciting, but is also very stressful for some couples: making decisions about the guests, the location, the wedding dress, the food and all the hundreds of unexpected events to preempt can be very complex and challenging. Couples, then, often feel pushed to make the most unusual requests when it comes to their marriage, often causing quite a bit of controversy. That's what happened when Kaytlyn Rosk and her fiancé, Tyler Wyatt, announced their list of rules that their guests would be required to follow on their wedding day. Among all the requests, one in particular stood out: "Children not allowed".
via TikTok / kroskxx
Advertisement
Everyone organizes and manages their wedding as they see fit, but some couples manage to make their guests feel uncomfortable with their requests. Kaytlyn Rosk and Tyler Wyatt announced a series of unusual requests in a video posted to their TikTok account, which immediately stirred up their followers and, most importantly, their future wedding day guests.
On this list of requests, some really stood out: no companions of any kind are allowed (forget your +1, even if it is your boyfriend or girlfriend of 10 years) and absolutely no children are permitted; in addition, there is a dress code to be respected by all guests. And if you were wondering, the two do not seem willing to make any exceptions: "No favors are done for anyone here."
What made many of their followers (and guests-to-be) feel the couple was being a bit two-faced was the fact that they themselves have three children. Nonetheless, they still decided not to invite any children to their celebration and the only children who will be present on the day will be theirs.
Advertisement
In addition to children, the ban on bringing a companion has also raised a few eyebrows. True, it doesn't make much sense to invite someone you don't know, but some guests may feel uncomfortable being there on their own and not knowing anyone present. But this couple doesn't care, they just want people who are friends with them at their wedding.
What do you think of these rules? Have you ever gone to a wedding where unusual requests were made by the couple? Would you go to this wedding with all its demanding rules? Let us know about your experiences in the comments!