After 28 years, this son finds the jacket that his mother had not been able to afford while he was at school: "It is her sign from the afterlife"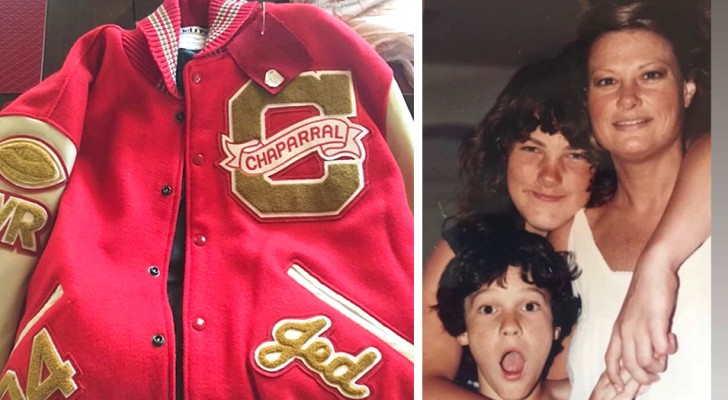 Advertisement
If there is an item of clothing to which American sports culture is closely linked, and which has been worn by a variety of people belonging to diverse communities, it is undoubtedly the "letterman jacket" (also known as "varsity jackets" and "baseball jackets"). Young people who play a sport in college wear these jackets with leather sleeves and a large letter emblazoned on the chest. Jed Mottley had designed himself a jacket when he was a student at Chaparral High School in the city of Scottsdale, Arizona, but he never got to see it completed as his mother couldn't afford to have it made. After 28 years, Jed found the jacket in a shop, and the first thing he thought was that, probably, it was "a sign" sent to him by his mother - who passed away a few years earlier.
via CNN
Advertisement
Almost thirty years ago, Jed was a student like any other, eager to wear his customized jacket: "You know, you had to design the jacket yourself ... but I never got to see the final product." Jed's mother, in fact, could not afford to pay for it, and Jed had to give up on it despite all his companions having theirs made especially for them. This kid, now grown up, never expected to find himself looking at his jacket 28 years later.
Advertisement
Adding to the mystery, the jacket was found by Jed's brother, Josh, almost 300 km distant from the school attended by the two. Was this some kind of "sign" their deceased mom was trying to send them? In fact, Jed recounted how his mother was very religious and how, before she passed, she told the two brothers a very important thing: "My mother was one of the most religious people I have ever known and she always said: 'I will send you a sign from the other side. My mother died in 2012 but we never got that sign - until now."
The jacket was miraculously found by Josh, in a thrift shop that was more than 280 km from the school attended by his brother, Jed. "I walked into this shop, I look around and the first thing I see is this bright, red jacket hanging on one side," Josh recalled. The brothers were sure of the jacket was the original, because it had very characteristic patches: the name "Jed" and "class '94" amongst them.
Jed immediately booked a flight to join his brother and finally he regained possession of the jacket. Josh commented on the event: "I kept looking at it, saying it couldn't be real. I assure you that I felt my mother's presence with us when I met my brother to give him the jacket."
What can we say? One may or may not believe that this discovery was the result of the "ghost" of a mother who sent a sign to her son, Jed, from beyond the grave - but what is certain is that fate (or coincidence) allowed the man to have an incredibly emotional experience after so many years.
Advertisement