Mother announces to her 9 children that she is pregnant again: almost none of them jump for joy
The news of the birth of a child always arouses strong emotions - mostly of joy - in the hearts of affected friends and relatives. There are rare cases, however, in which not all family members are able to happily accept the arrival of a little brother or sister with a smile. Janel and Brain are a couple of happy parents, with 9 children: this is a large family, in which the eldest is 28 and the youngest is 5. When Janel had all her children reunite with her for a photo shoot, she shared the great news with them: she was pregnant again! At the good news, her children all reacted differently, but to be honest, only Sydney, 17, got excited and congratulated her mom. For everyone else, the news had a different impact.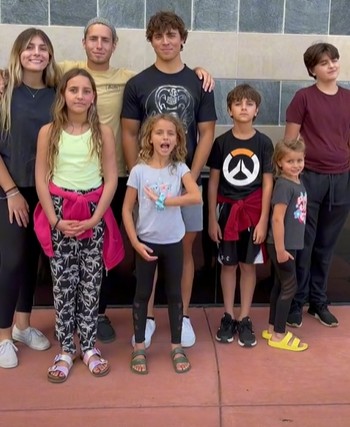 The children of Janel and Brain did not take the news very well that, soon, they would become a family of 10 brothers and sisters. Mom had them all come to a reunion with the excuse of wanting to take a nice family photo, but at the moment of the photo being taken, she revealed her very important news: "Smile and say 'mom is pregnant'!" she is heard saying in a video of the event which she posted herself. The only one who gets excited at hearing these words and puts a hand to her mouth is Sydney, her seventeen-year-old daughter, who immediately goes over to congratulate her mother: "I knew it! I knew it!" she says to her mother, super-excited.
Janel and Brain's children are Skyler, 28, Sam, 22, Spencer, 19, Sydney, 17, Storm, 13, Stella, 11, Steele, 9, Scout, 7, Scarlett, 5 years and ... little Stone, who was still in his mother's womb when the video was filmed and posted.
Why the lack of enthusiasm? Well, the older children were probably thinking that soon they would have to help take care of a newborn ... again! Even the younger children have already experienced this type of situation and, probably, were "worried" about having to share all the attention and care of their parents with the newcomer.
The concerns of these children are quite understandable and even supported - so much so that many followers have posted comments criticizing this 46-year-old mother: "I don't understand the point of having 10 children" wrote one person, while another commented: "I'd be mad too, I'm like a second parent in my family and it's honestly exhausting." In short, if almost none of the children appear happy at the news of the arrival of their new brother, we cannot blame them. But what do you think?