Woman gives birth to her seventh child at the age of 51: followers accuse her of being irresponsible
The desire for motherhood is felt by many women in different stages of life; basically, after the age of 40, it becomes less and less advisable for a woman to carry a pregnancy, but there are those who do not allow themselves to be intimidated by these warnings and pursue her dream. Kimberly Chasteen is 51 years old, she is already the grandmother to some grandchildren and, in the course of her life, she has already given birth 6 times. After undergoing tubal sterilization, she changed her mind about having another child with her new partner. The woman then attempted the long and expensive procedure of in vitro fertilization, managing to become pregnant at the age of 50. Her family supports her by now, but many followers who have learned of her story describe her as "irresponsible".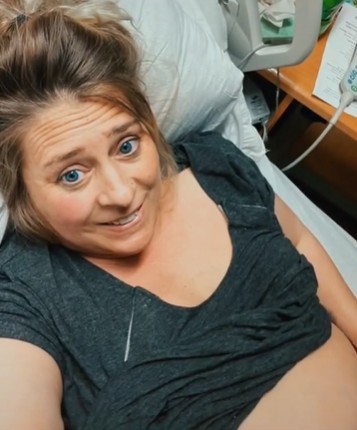 Kimberly Chasteen, now 51, gave birth to her first daughter, Jessica, aged just 16 in 1987. She then gave birth to five more children: Kayla, 33, Richard, 31, Blake, 20 , Briar, 19 and Balin, 17. During her incredible seventh pregnancy, the woman shared the joy of giving birth to a boy with her pregnant daughter Kayla. There was no lack of controversy and some problems but, in general, Kimberly's pregnancy went very well and little Tyrique Chasteen was born on March 17, Staint Patrick's Day.
Kimberly had undergone surgery for tubal closure (sterilization), aware that she would no longer be able to have any more children in the future. Life, however, is unpredictable, and after meeting her new partner, she decided to have a child with him. At 51, all the doctors had advised her not to undergo the reverse surgery and get pregnant, but the woman went through all these steps with determination.
In order to get pregnant, Kimberly spent around £23,000 pounds (± $30,160 dollars) on in vitro fertilization. This was a decision and path that Kimberly pursued with her whole heart, but one which did not make her immune from criticism. Although everything went well, some followers who learned of her story did not hesitate to "condemn" this pregnancy, defining Kimberly as a selfish person. The reason for this criticism is Kimberly's age, of course: when the child is 10, she will be 61, and so on. Kimberly, however, does not regret her choice, despite the fact that she already has six other children and several grandchildren.
What do you think of this woman's choice? Write to us in the comments!