Former basketball champion takes a family with nine children out to dinner and buys them a 15-seater vehicle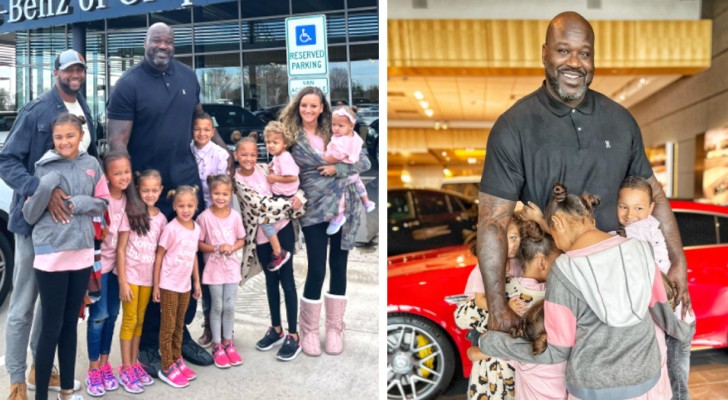 Advertisement
Those who have the opportunity to help others should never hold back. Even in your own small way you can make efforts that for someone else will have incredible importance and significance - this is how one can have a positive effect on others. Shaquille O'Neal (Shaq), former Los Angeles Lakers basketball player and celebrity, proves every day that he was a champion not only on the basketball court, but also in life. The champion has often appeared in the headlines thanks to his good deeds. It seems that in 2021 Shaq made a promise to himself: every time he left the house, he would try to help someone in need. The basketball "giant" seems to have delivered on this promise, and this story proves it.
Advertisement
Former basketball champion Shaquille O'Neal took a very big family out for dinner - the Collins family, who were having some financial difficulties. A family with nine children might seem difficult to manage, but taking them out for dinner was like child's play for Shaquille O'Neal. In reality, the champion has done much more for this family, actively helping them to overcome their difficult situation. Knowing that the family was looking for a vehicle that was at least a 12-seater, one capable of transporting all of them from place to place, Shaq decided to purchase a custom 15-seater Mercedes van for them.
"We really have no words," the Collins family enthused. "Shaq blessed us with this gift!"
As if that weren't enough, once at the restaurant, Shaq tipped the waitress who served them $ 1,000 dollars as he had heard that the young woman would have to incur a lot of expenses to fix her car. This was yet another display of Shaqu's infinite and unwaning generosity. Additionally, wanting to do everything he could for the Collins family, the ex-champion even gave the father of the family a new van, as their old car had a problem with the air conditioning and heating.
"He also spent time encouraging us and caring for our children and talking about life in our family," the Collins wrote online on their social media pages. "Someone wake me up, because I have to be dreaming!" is what we read in the family's posts.
In short, Shaquille O'Neal is a giant with a big heart. The champion attributes his generosity to the parents who raised him according to certain values: "You know me, coming from where I come from - my father was a drill sergeant, my mother was a hard worker. We didn't have much. But they taught me the value of giving back. They taught me the value of helping those in need." They were champions like him!