Doctor becomes a father at 83: "I have to live to be 105 to see my son graduate"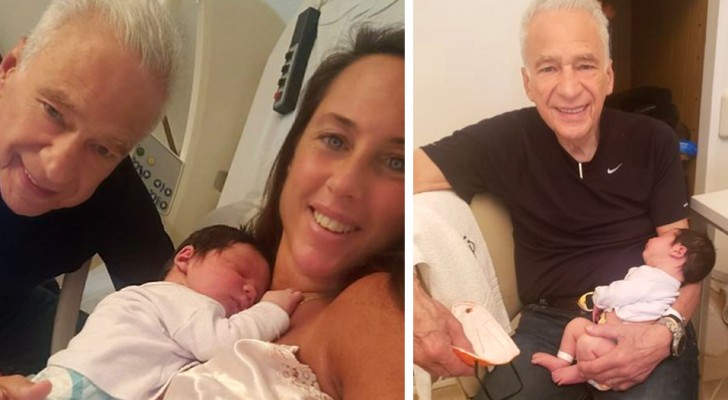 Advertisement
Who said that an elderly person cannot have fun and experience their old age without the shadow of negativity and loneliness that today's society almost seems to impose on them? Of course, from having fun to having children, is perhaps tending towards the extreme end of this viewpoint. The case of Argentine doctor, Alberto Cormillot, who became a father at 83 years old, is indeed an exceptional case. The well-known Argentine doctor married a woman 48 years younger than him and, despite his advanced age, he decided to give her the experience of having a child and building a new family. Certainly, it was a personal choice that caused a lot of heated discussion in the public arena: many skeptics have criticized the motives of such a relationship and of giving birth to a child.
What do you think about this story?
Advertisement
Alberto was born in Buenos Aires on August 31, 1938 and with his incredible story he is proving that living an alternative old age is possible. Of course, he has always carried out many activities and, at work, he had a long career as a nutritionist, which has allowed him to cure the various eating disorders of thousands of patients. He is very famous in his country of origin and, in 2019, he had made headlines by announcing that he would marry Estefanía Pasquini, a woman 48 years younger than him. Their dream of love came true and, a couple of years later, the desire to have a child together was also fulfilled.
Even before having a child, the couple had been critisised and initially had not been accepted by Estefanía's parents: "My mother used to say that a young person would get engaged to a famous person just for the money. It did not occur to her that instead, I just wanted someone who loved me. My father even told me not to go to their house anymore. It took more than a year for them get to know our baby ", said Alberto's wife. Fortunately, the families have mutually accepted each other and now that Alberto and Estefanía have had little Emilio, they are even more attached to each other!
Advertisement
The main criticisms expressed related to the fact that Alberto and Estefanía have become parents because they are motivated by Alberto's advanced age. Many users have commented that Alberto will be too old to see his son grow up, but both parents have made it known that they have already talked about these things. Estefanía and Alberto's awareness is all clear: "They're [their critics] not saying anything that I don't already know, or that Alberto doesn't know, or things we've never talked about. I discussed it with my friends and they told me 'Yes, it will happen, you will have a child and one day (Alberto) will not be there, for obvious reasons. And when he passes away, we will still all be here to help keep you going' ".
Little Emilio was born on 17 September 2021, in perfect physical condition. Alberto knows he is no longer a young man, but he still has a lot of energy and affection to give to his son: "I am certainly not thirty years old, of course, but I will be beside him in any way possible", he affirmed with great insight, adding that he is already starting to prepare some very special gifts for Emilio for when he is older: "I have activated the line of a new phone, so I can send him WhatsApp messages and record stories for him, send him photos and tell him what I'm doing". This is a clever, nice way to record and store the memories of a father, which the son will always be able carry with him!
Advertisement