Model mom gets criticized for how she dresses when she goes to school to pick up her 3 children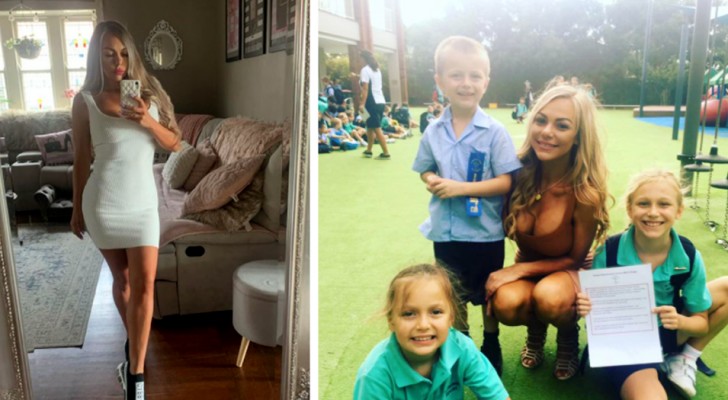 Advertisement
Nowadays, men and women can decide to dress as they see fit, without risking being singled out negatively for what they are wearing. This is a truth that gives us comfort and that distances us from past and antiquated conventions. It is also true, however, that some outfits certainly do not go unnoticed and that even today one can risk being criticized on social media, for example, for the way you are dressed. And, unfairly, it is women in particular who are easy targets in these cases when they happen.
Australian model Bella Vrondos, for example, was criticized by many users and by the parents of her three children's classmates for the way she showed up at school to pick them up.
via Facebook / Belatrix Lee Vrondos
Advertisement
Here is the photo that drew so much criticism
Bella Vrondos is an Australian model who is not ashamed to show off her athletic body in clothes that leave little room for the imagination. Criticising her were several mothers and social media users who saw the photo she published on her networks. The photo shows Bella going to pick up her three children from school, wearing an "inappropriate" beige dress. This mom was harshly criticized for being considered "inappropriately dressed". "I posted a photo on social media of myself and my kids at school with their prizes, and the photo went viral because apparently the way I was dressed wasn't appropriate for school," Bella said.
This kind of discrimination seems to have gotten worse since Bella underwent an operation to augment her breasts: "As soon as I had the surgery, I was viewed differently by most of the other moms. Being a mom doesn't mean you have to give up on yourself or your career. I'm trying to create awareness about this," explained the Australian model.
Advertisement
The criticisms directed at Bella are really acts of bullying, even if they are aimed at a very beautiful and self-confident person. Many social media users accused her of being a materialistic person: "Some have told me they would rather spend their money on their children. But to assume that I don't spend my money on my children is just ridiculous," Bella added.
Bella's family is very close and her children love her. This is important and it is also the reason why Bella tries not to give too much weight to these criticisms: "My children love me as I am. If I had to change my appearance, I would not be their mother, I would not be myself. My kids think I'm the best person on the planet; they look at all the other moms and wonder why they're not like me."
What do you think?
Advertisement